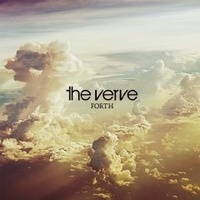 Forth is the first LP for The Verve in more than 11 years, and though the title suggests some kind of movement forward, the English quintet basically sticks with what they do best. Massively popular in the U.K.–where their reunion was celebrated with near-biblical excitement–The Verve's main notoriety stateside is for "Bittersweet Symphony," the music for which was originally composed by The Rolling Stones, who collected all the song's royalties.
 With over a decade of silence, hardcore Verve supporters were probably dumbfounded by Forth's lead singe "Love is Noise," with its disco-dance backbeat and croon hooks that feel like they belong on a disc by Robbie Williams or Coldplay. What's stranger is that the band actually manages to pull it off, although it won't help them dance away from accusations of selling out.
As with 1997's Urban Hymns, the bittersweet and symphonic tracks are the high points. Ballads like "Judas," are drenched with swirling, sappy guitar lines as Ashcroft's lyrics echo with heartache. A lot of bands go 11 years without composing a gem with arrangements as lush and sonically stunning as "Valium Skies," in which Ashcroft and company craft a gorgeous mix of strings and guitars with lyrics about trying to pull a lover back from the edge of despair.
The rest of the record is a collection of hits and misses. The symphonic backbone of "Rather Be" is unexpectedly held together by  Nick McCabe's  funky wa-wa guitar and a soaring chorus by Ashcroft, but other songs, like the aptly-named "Noise Epic" and the lethargic "Numbness," drag on needlessly. The closer "Appalachian Springs" has all the calling cards of a Verve song: length, epic guitars and moody lyrics, but it, like too many songs on Forth, lacks the soul that really prevent the record from being so warmly embraced after such a long absence.
Words By: Bill Reese
[Rating: 3.5/5]