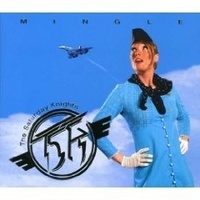 When I first heard the Saturday Knight's 4 song EP I was instantly obsessed (as anyone who has ever read this column must already know). I foisted it on everyone I knew and eagerly awaited their full length album, which finally came out this year. All of the songs from the EP are on the album, but they've been tweaked a bit. My favorite song of theirs, "45," has been changed, but not for the better. The beats and the organ have been modified slightly and I far prefer the original. The other three songs, "Motorin'," "The Gospel" and "Ass Kicker's Haircut" remain essentially the same with very subtle changes.
The new songs are a mixed bag. There are some really great girl group style harmonies on some of them like "Count It Off" and "Dog Park" and I think "Surf Song" is an inspired combination of rap and surf music, even if some of the lyrics are cheesy. And speaking of cheesy — "Private School Girl" is god awful. It is far below what I'd expect out of the Saturday Knights both lyrically and musically. Bad, bad, bad. The song "Patches" also leaves me scratching my head. While I like the horns and organ the lyric and parts of the delivery are both weird and boring. Another aspect of the album I find confusing is how dogcentric it is. There are two songs, "Dog Park" and "Mutt," that reference dogs. While I understand that "Mutt" is not literally about dogs, there are still dog references and it seems odd to have two songs on an album that deal with dogs (and I don't think my dog, Fats, enjoyed it too much either).
Sadly, this album was a disappointment for me. Perhaps its because I had such high expectations for it, perhaps its just not very good. Either way, I didn't love the Saturday's Knights' full length album as much as I loved the 4 song EP.
Words By: Stacy Coronis
[Rating: 3/5]