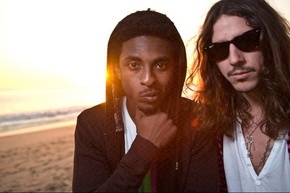 Malibu twosome SHWAYZE hit the road in support of their eponymous debut, in stores now. Their headlining tour with opener Tyga commences September 16th and runs though October 11th.
A melting pot of laid-back melodies, hip-hop rhythms and acoustic guitars, SHWAYZE pays homage to the all-day-and-into-the-night party. Collaborating with 23 year-old Shwayze is Cisco Adler, who co-wrote, produced and lent backing vocals to all the songs on the album.
Be sure to catch Shwayze on tour!
09/16       Blush                                                         Las Vegas, NV
09/17       The Grove                                           Anaheim, CA
09/18       Venue of Scottsdale               Scottsdale, AZ
09/19       Rialto Theatre                                 Tucson, AZ
09/21       Bluebird Theatre                           Denver, CO
09/22       Buffalo County Fairgrounds       Kearney, NE
09/23       Cains Ballroom                               Oklahoma City, OK
09/24       Graham Central Stations   St. Angelo, TX
09/25       El Ray Theatre                               McCallen, TX
09/26       Ghost Bar                                             Dallas, TX
09/27       Riches                                                       Houston, TX
09/29       Vicci                                                             San Antonio, TX
10/05       Toad's Place                                     Richmond, VA
10/06       Norva                                                           Norfolk, VA
10/07       Crazy Donkey                                   Farmingdale, NY
10/08       Blender Theatre at Gramercy New York, NY
10/09       The Stone Pony                           Asbury Park, NJ
10/10       The Fountains                                 Delmar, MD
10/11       Santa Fe Café                                 College Park, MD