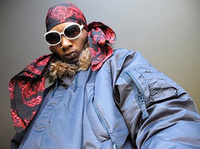 My introduction to Del was with the original Gorillaz album. That song "Clint Eastwood" made my summer that year. I was so obsessed with it and him (though I knew nothing about him at the time) that I bought the album the day it came out, which is the only time I can remember doing that with an album.
As I learned more about Del's music, from his work on Deltron 3030 to his solo projects, I became more and more impressed. I think he is one of the most creative forces in rap and it's a shame that he doesn't get more exposure. Perhaps it's for the best, though; who knows what mainstream scrutiny and demands would do to his work. I have a feeling Del's not that interested in the masses anyway.
Eleventh Hour is his latest offering and it's a solo work as opposed to a collaboration with his frequent partner, producer Dan the Automator. Del produced this one himself and that might be the problem. The album is by no means bad. Anything Del puts out is better than 99% of the terrible, retread that counts for hip hop right now, but this album lacks energy. Some of the songs have some great bouncy beats like "Bubble Pop" and "Funkyhomosapien" (which sound oddly similar), but on the whole I didn't find myself bopping my head up and down like I usually do with Del. His delivery leaves something to be desired as well. Again, it lacks energy. The certainty and potency of his lyrics is missing here. To be fair, Del's delivery sounds pretty much the same on most of his songs, but this time the cadence is again similar but doesn't have that oomph that pushed it over the top before. He sounds tired. I love Del, but Eleventh Hour is not his best offering.
Words By: Stacy Coronis
[Rating: 3/5]