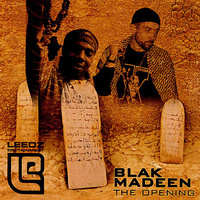 The first couple of tracks on this album did not impress me. "The Opening" is awfully pretentious although the chanting in the background is beautiful. The second song, "Two of the Best" has a boring keyboard backbeat that sounds like an early 80's public access show theme song. Things improve from there, however. Al-J, one of the two rappers who make up Blak Madeen (the other is Yousef) has a voice and a flow that I really enjoy listening to. I don't enjoy Yousef quite as much — his delivery seems less natural, more stop and start.
Both Al-J and Youself are Muslim and take their religion seriously, which I admire. Blak Madeen seems to strive for socially conscious music and takes what they consider their responsibility to heart, which will get points in my book any day. Thankfully, though, they don't come off as pedantic about any of it — it is supposed to entertainment after all and they seem to get that for the most part.
The Opening comes in at 18 songs. I think that's the disc's biggest problem. Blak Madeen would do well with some judicious editing to make a better impact. As it is, there are some real mediocre songs mixed in with real gems. I expect they'll learn that lesson on their next album and it will fare better.
Well, this is it, the last one. I won't be writing anymore. If you've read my stuff for Skope, thanks. I enjoyed listening to and writing about music for this site.
Words By Stacy Coronis
[Rating: 3/5]