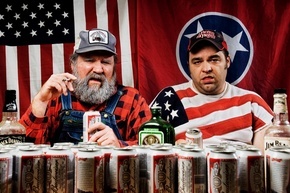 Jackie Broyles and Dunlap from Red State Update have been busy since releasing their new CD How Freedom Sounds. Covering the elections and everything from aliens to Budweiser, the duo is making a name for themselves as musicians as well.
"Red State State of Mind":
"Simple Man":
Finally, the cat's out of bag and the top-secret mission swirling about RSU headquarters for the past week is a secret no longer. Jackie Broyles and Dunlap, the dynamic and deviant duo that make up the good ol' boy humor of Red State Update, have announced their alignment with one of Nashville's most prominent independent labels, Dualtone Music Group.
The uncouth Tennessee two have created quite a niche acting as comedic political pundits during the current presidential campaign season. Jackie and Dunlap's first big shot at mainstream celebrity happened last July when CNN chose their video to feature during the YouTube Democratic debate. Since then, Red State Update comedy shorts created for You Tube and MySpace have attracted thousands of subscribers.   Total online views between YouTube and MySpace is over 10 million–and several of their videos have been featured on YouTube's main comedy page, including one of their most current sketches entitled, "Hillary Wins, McCain Clinches, Huck Out."
Dunlap, naturally clad in his trade mark American flag T-shirt and tipping back a can of Budweiser couldn't be happier since signing with Dualtone: "Listen, I'd love to give you a quote for a press release, but since becoming an Important Recording Artist, I'm pretty busy.   I just bought a Rutherford County school bus and am having it converted into a Rolling Awesome Party Carriage.   Right now I'm picking out carpet for it.   I'm looking for something that will brighten the interior and not show vomit.   Like most Important Recording Artists, my afternoon will consist of making a video.   It's gonna be chock full of sexy girls in lace bras and cheerleader skirts, washing my Rolling Awesome Party Carriage.   They're gonna get soakin wet and soapy, and I'm hoping the hot sun will disorient them.   It's gonna be like a Hank Williams Jr.-directed remake of Calligula.   It ain't a music video, it's just somethin' for me to enjoy later."