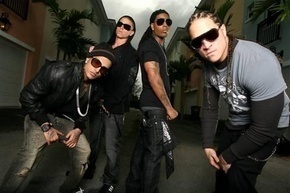 With R. Kelly on their resume and an endorsement by So So Def president Jermaine Dupri, R&B outfit Git Fresh are poised to release their self-titled debut this fall. When I spoke to the guys, a promo run had them in New York City "in the club late and up early doing press all day."
Sounds about right for a press run in New York.
Pretty Sli and Rude Boi have known each other since they were 10-years old, and got their start performing in local talent shows. In middle school, Mike Ezay and Penny got involved and the band [then known as Deep Side] started looking beyond Florida's local music scene.
"We were in Chicago doing some independent stuff and R. Kelly saw us," Rude Boi said. "We sang for him at his birthday party and he introduced us to Wayne Williams. That's how the Jive Records thing happened."
 
A stint with Jive found the two entities moving in different directions, so the group decided it was time for a change-"a fresh, new start." It was then in the middle of 2008 when Deep Side gave way to Git Fresh and Jive was replaced with So So Def. The guys immediately went back to work in Florida.
"Ever since we've been recording the new album and J.D. [Dupri] has been very supportive and behind us," said Pretty Sli. "It's been a good switch."
Instead of dipping into the years of songs in their repertoire, the debut promises brand new Git Fresh tracks that I was assured will be "sexually charged tracks you can dance to but also something that the young and old can both relate to."
While working on the first album single, "Booty Music" in Atlanta, a copy was leaked and a radio station in Reno (of all places) was devoting more than 100 spins a week. And in an industry that is sketchy at best about advanced releases, it couldn't have been more fortuitous for Git Fresh.
"When the record leaked, it was at a point in time when we wanted, and needed to have our music out in the public," Sli said. "We weren't upset at all, it really got us to where we are today."
The group is finishing up studio work on the debut and will be traveling to the Dominican Republic to shoot the video for "Booty Music" (which peaked at #9 on Billboard's Bubbling Under R&B/Hip Hop Single chart this past June.) The group is looking for a supporting tour to follow soon after.
 
www.myspace.com/gitfreshmusic
Words By: Chris West