So as I am doing email one day I get an email from a Skope reader who tells me that she is a celebrity artist. Her name is Victoria Ward and as I came to find out she is the real deal. Victoria has done work for Roberta Flack, Jurnee, Chaka Khan, Entrepreneur Magazine, & the Palm Beach Post just to name a few. Also, I liked how 3% of all purchases of her art are donated to non-profits like American Planning & Green Allied.
Stoli: How did you get into the business of celebrity art?
V: By accident! I saw Roberta Flack in concert and gave her road manager a print of mine to give to Roberta, then two weeks later I was getting a call from them about my art. The rest is history!
Stoli: How did you get to the point where you were doing art for major celebs?
V: During the time when I was doing local art festivals and concert venues. I was hired to do commemorative posters and part of my contract was to meet the performers that would be there and it just kind of took off from there.
Stoli: Have any celebs ever requested to do a painting that was a bit   out of the ordinary?
V: No, nothing like that yet, but I'm ready and waiting for the request….lol!
Stoli: Were you always a great artist or did you have to go to school?
V: I was always doing art around the house. It was just in my blood so to speak. But I still went to school to study and learn new techniques and broaden my talents by meeting other artist.
Stoli: You recently worked with Chaka Khan. What kind of art did she   want you to do?
V: I didn't work with her! I simply did a second work of art for her that spoke to me when I listened to her last CD and saw her comeback on the music scene. I was inspired….the art work was sent out to her in CA.
With Charlie Murphy: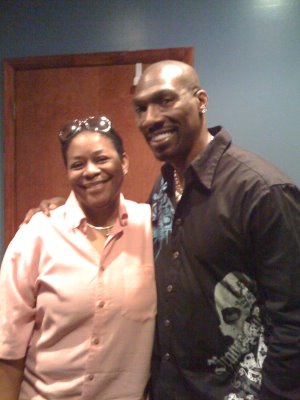 Stoli: What do most celebs do with their art after it is framed and delivered?
V: You know I couldn't tell you some hang it some just collect it.
Stoli: What artist have you not worked with but you would love to?
V: OMG! Where to begin, can I name more that 1? Lets see Quincy Jones, Lil Wayne, LL, Tommy Lee, Cold Play, Earth Wind and Fire, Maria Carey-Cannon, Russell Simmons, Bill Gates, Erykah Badu, Kimora Lee Simmons, Diddy, Missy Elliot, Will Smith, William Buffett…… the list just goes on and on. LOL!
Stoli: If someone wants you to have a piece done how can they go about that?
V: They can call: 561-294-4525 email: vidivacorp@yahoo.com hit me up on the myspace page: www.myspace.com/1vixster. Just tell me what they want and what size; any details would be fine just add them in. It helps when working on the art as its being created.
Stoli: Who are some musicians that you have covered beside Chaka Khan?
V: Roberta Flack, Nancy Wilson, the late Phylis Hyman, and a  few legendary singers.
Stoli: What is your vision for VIDIVA in the long term?
V: My vision for VIDIVA is to become one of the most well known and sought after artist and designers in the world. To build the brand VIDIVA as a creative powerhouse that will flow into all areas of entertainment and publishing. To cross into all cultures and generations while contributing to our planet it's inhabitants and well being.
 
I want to thank you all at Skope for this interview and I wish you all much success! Victoria Vidiva L. Ward…Peace!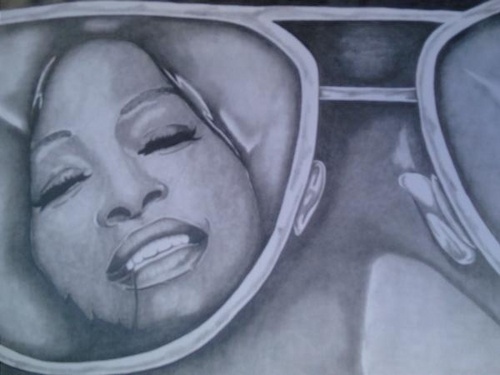 Chaka Khan By Victoria Ward