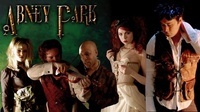 With Lost Horizons, Abney Park completes the transition from goth to definitive steampunk. Not that they had to travel very far — the musical genres are close cousins, based in the dark, dystopian past with the period clothes to match. Abney Park has always taken cues from exotic, old world sounds and brooding, Bauhaus rock. But Horizons ups the steampunk content considerably, arriving on a zeppelin of "Airship Pirates" singing a dramatic shanty about terror from the skies.
The most impressive thing about Abney Park's latest incarnation is how seamlessly they combine the old and the new into a sepia-toned hybrid of folk, goth, world music, and electronica. If you removed the chirping keyboards and churning guitar from the traditional "I Am Stretched on Your Grave," Robert Brown could be singing in a folk club on trad night. Similarly, with a few slight adjustments, it wouldn't be a stretch to imagine the waltzing "Herr Drosselmeyer's Doll" at a Renaissance Faire. Violins jig and reel, keyboards mimic a French horn or a harpsichord one moment and bubble like a moog the next, and even the drum programming sounds more like an acoustic kit at times. None of these competing elements seem forced together.
And behind all the dramatically furrowed brows and dead girls in lace, there's a palpable sense that the band is having a lot of fun. "Post-Apocalypse Punk" is (almost) joyful power chord punk, and the hidden track (safe to assume there would be a hidden track), "The Ballad of Captain Robert" is a swashbuckling accordion-and-dumbek-driven sing-a-long shanty, the perfect bookend for "Airship Pirates."   True, steampunk air pirate sea shanties aren't for everyone, and there's a considerable amount of artifice involved. If that's a turnoff, stick to your Depeche Mode albums. But Abney Park has created a satisfyingly complete world to explore, unfolding like a tasty sci-fi audio novella.  
Words By: Nick A. Zaino III
[Rating: 3.5/5]