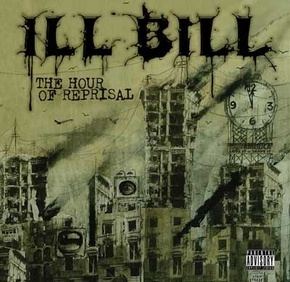 Fat Beats has just released a six-song sampler for this cross-genre epic, appropriately entitled The Hour Of Reprisal, which is set to drop September 16th.
The sampler highlights the myriad sounds and flavors that have influenced ILL BILL ranging from edgy metal guitar parts to the raw hip-hop beats and production seen on every featured track. An ILL BILL verse has never been an aimless journey through 16 bars, but rather a threatening configuration of worldview, conspiracy theories, street corner politics and real-life experiences, and this album is no exception. Topics such as the war in Iraq, the unsettling and disturbing subject of racism, the senseless shootings at Virginia Tech University, the state execution of Stanley "Tookie" Williams and countless others surface, minus any air of exploitation, but with a slash of brutal awareness of challenging times.
Fat Beats microsite:
MP3 Download link:
The highly anticipated second solo album from Brooklyn's independent hip hop kingpin ILL BILL is finally scheduled for release on the Uncle Howie/Fat Beats label on September 16th, 2008. The former Non Phixion member and current La Coka Nostra riot-starter has surgically crafted a fine masterpeice featuring guest shots from Raekwon The Chef, Immortal Technique, La Coka Nostra, B-Real, Necro, Tech N9ne, Bad Brains, DJ Muggs, Howard Jones of Killswitch Engage, Max Cavalera of Sepultura/Soulfly, DJ Premier, Vinnie Paz and More.
Track Listing:
1. Babylon feat. Howard Jones of Killswitch Engage
2. Doomsday Was Written In An Alien Bible
3. Trust Nobody
4. A Bullet Never Lies feat Vinnie Paz of Jedi Mind Tricks
5. White Nigger
6. My Uncle
7. Riya feat. HR and Darryl Jenifer of Bad Brains
8. War Is My Destiny feat. Immortal Technique and Max Cavalera of Sepultura/Soulfly
9. Society Is Brainwashed
10. This Is Who I Am
11. Too Young feat. HERO and Slaine of La Coka Nostra
12. Pain Gang feat. B-Real of Cypress Hill and Everlast of La Coka Nostra
13. U.B.S. (The Unauthorized Biography of Slayer)
14. Coka Moshiach feat. Raekwon The Chef
15. The Most Dangerous Weapon Alive
16. Soap
17. I'm A Goon
18. Only Time Will Tell feat. Necro, Tech N9ne and Everlast of La Coka Nostra