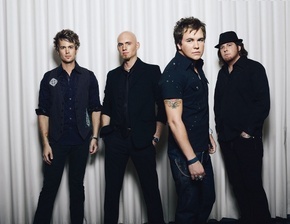 We have found a new group signed to Universal South called the Eli Young Band.   Their album, Jet Black and Jealous, is releasing on Sept 12th. They are an amazing DIY success story with selling 40K albums independently and getting their video for "When It Rains" on CMT, GAC and Billboard all on their own.
The Eli Young Band's music has all the hallmarks of youth: passion, energy, excitement.
The band's story is the definition of commitment: eight-years–eight long years–spent honing its sound while building to the release of its first national album.
The blend of sonic exuberance and personal maturity is just one of the things that makes the Eli Young Band and their Universal Republic/Universal Records South debut, Jet Black & Jealous, such an intriguing musical property.
The band combined a range of elements–vocalist Mike Eli's ingratiating resonance, guitarist James Young's elastic bag of sounds, bass player Jon Jones' inventive foundation and drummer Chris Thompson's energetic propulsion–to create a 12-song CD that paints even the difficult turns in life with an underlying optimism.
"That's been a theme through a lot of our music," Jones observes. "It might be raining today, but it might be sunny tomorrow, so it's worth sticking around for."
Sticking around is a major tenet of the Eli Young Band. The eight years of lugging equipment to small Texas clubs, of losing day jobs because their music held priority, of saying goodbye to relationships torn by their weekend travels, only solidified their dedication.
The four weren't sure initially what they had or where they were bound. But they knew they needed to keep pushing forward, that there was something special in their boundless mix of modern country and solid roots-rock inspirations.
Eli Young Band: "When It Rains" from the album Jet Black and Jealous in stores and online Sept 12th (WindowsMedia):