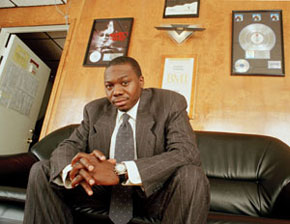 Czar Releases Luke's Parental Advisory, Belly 2 and The Game's Third Album 'L.A.X' in August!
Entertainment and Management Firm Czar Entertainment has announced 3 major releases in August, covering television, film and music. The powerhouse firm is behind 'Luke's Parental Advisory,' the DVD Release of 'Belly 2' and the release of The Game's 'L.A.X'.
Luke's Parental Advisory is a reality TV show based on the 'sexfamous' and scandalous Luke Campbell, played against the backdrop of the glitz and glamour of America's sexiest city- Miami. The NY Times said of the show: "Luke's Parental Advisory may become a guilty-pleasure classic". Luke's Parental Advisory premiered on August 4th, 2008 on VH1 and aired in a primetime lineup that included Diddy's 'I wanna work for Diddy.' The CEO of Czar Entertainment, Jimmy Rosemond, shares Executive Producer credits on Luke's Parental Advisory with Tone Boots and Bernard Griffin.
Belly 2 is a straight to DVD project and was executive co-produced by Jimmy Rosemond. The DVD was released on August 12th through Lions Gate Films and stars rapper The Game and Michael K. Williams from HBO's 'The Wire.' "It's imperative when doing delicate and inspiring projects such as Parental Advisory and Belly 2, that all of the involved parties from the network, the film distributors, the business partners and of course, the artists, all share the same level of enthusiasm and excitement for the end product" said Rosemond.
L.A.X. will be The Game's third album and is destined to be another huge bi-coastal hit from the most talked about and controversial west coast rapper. L.A.X. will be released on August 26th and has already received much praise for the 2 singles already released from the album- 'Game's Pain' with Keyshia Cole and 'My Life' with Lil Wayne. L.A.X. will be Rosemond's second executive produced album with The Game.
The Game feat Lil Wayne "My Life"