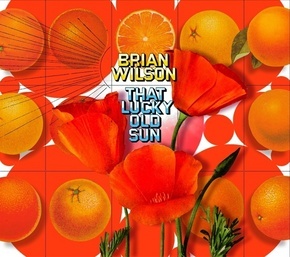 NEW STUDIO ALBUM, 'THAT LUCKY OLD SUN,' TO BE RELEASED SEPTEMBER 2 ON CD, DELUXE CD/DVD & DIGITALLY & LIMITED EDITION VINYL LP TO BE RELEASED AUGUST 19.
He is one of popular music's most deeply revered figures, a legendary writer, producer, arranger and performer of some of the most cherished music in rock history. Indeed, it is no exaggeration to call Brian Wilson one of the most gifted and influential pop composers of the last 50 years. Wilson has returned to Capitol Records / EMI, his original label home, for the release of his new studio recording, That Lucky Old Sun. The new album will be released on CD, CD/DVD, and digitally on September 2 (September 1 internationally). On August 19, the album will be released as a limited edition 180-gram vinyl LP.
Brian Wilson's return to Capitol Records / EMI, where The Beach Boys caught their first hit wave with the 1962 classic, "Surfin' Safari/409," is a triumphant homecoming for one of the world's most gifted and beloved musical talents.
"I'm thrilled to be back home with Capitol, and I'm looking forward to sharing That Lucky Old Sun with everyone," says Brian Wilson. "This music is really special to me."
"We are delighted to be working with Brian Wilson for his new album, That Lucky Old Sun," says Guy Hands, Executive Chairman of EMI Music. "We all remember the feeling we got when we first heard The Beach Boys' music. My particular favorite classic is 'Surfer Girl.' It always reminds me of driving an open top car down the Pacific Coast Highway from Santa Barbara to Malibu. Brian Wilson is an iconic talent with enormous musical influence all over the world and we are very proud to be representing him."
Check out the single for "Midnight's Another Day":
Brian Wilson: That Lucky Old Sun
1. That Lucky Old Sun
2. Morning Beat
3. Narrative: Room With A View
4. Good Kind Of Love
5. Forever She'll Be My Surfer Girl
6. Narrative: Venice Beach
7. Live Let Live/That Lucky Old Sun (reprise)
8. Mexican Girl
9. Narrative: Cinco de Mayo
10. California Role/That Lucky Old Sun (reprise)
11. Narrative: Between Pictures
12. Oxygen To The Brain
13. Can't Wait Too Long
14. Midnight's Another Day
15. That Lucky Old Sun (reprise)
16. Going Home
17. Southern California