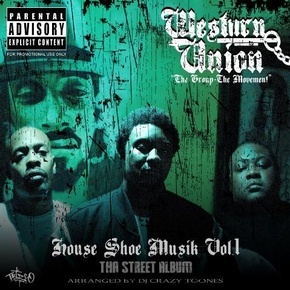 The album hits stores everywhere on September 2, 2008 and features appearances by Snoop Dogg, Daz, Kurupt, Dion, BJ, Traci Nelson and Uncle Chucc.
Comprised of Damani (from Inglewood), Bad Lucc (from Watts), Soopafly (from Long Beach), Dubb Union is the latest group in a long line of emerging artists to come out of the Doggystyle Records camp. As its chief A&R Executive and C.E.O. Bigg Snoop Dogg has long prided himself in discovering and nurturing local talent and Dubb Union is no exception.
Having already appeared on Snoop's albums Tha Blue Carpet Treatment and The Big Squeeze, the group has cultivated an underground following that's had L.A. buzzing. With a debut album packed full of West Coast bangers, Dubb Union is ready for its debut.
Snoop weighs in, "Dubb Union has accomplished what few can do- create an incredible album that you're gonna want to bang from top to bottom. Damani, Bad Lucc, and Soopafly have crazy chemistry! And they represent that West Coast unity that I've been pushing hard. This is Los Angeles music at its finest- with fresh, new music for the streets, the clubs, and the ladies."
Check out the first single, "Westurn Union!!" featuring Doggpound member Daz Dillinger and BJ: