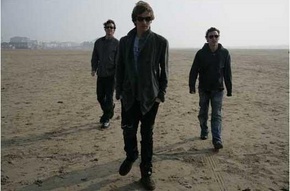 No fiction here, this group formerly known as Santa's Boyfriend that now goes by Fiction Plane is for real! Fronted by singer/bassist, Joe Sumner along with Seton Daunt on lead guitar and Pete Wilhoit on drums–these guys came to Bluebird Nightclub in Bloomington, IN on Sunday, Aug. 10 and just ROCKED the joint!   It was a pleasure to listen to and a treat to see live.
Fiction Plane is coming off the Summer Unity Tour with 311 and Snoop Dogg and set to play in France and Netherlands in December. Their latest album, "Left Side Of The Brain" features four hot singles and just a terrific album altogether. Fiction Plane just makes good-old-rockin' music, from the sound of it anyway.
Sunday night was incredible at The Bird and honestly one of the best bands I've ever seen there.   Really didn't know much about the true sound of Fiction Plane until I heard it live piercing into my ear drums and really got it then.   I was still hearing their music in my ears the next day, in big part to myself standing right next to the speakers and amps Sunday night.   I was feelin' good and Joe, Pete and Seton were bringin' the sweet noise, so felt like I was in the Fiction Plane zone that night.  
Joe Sumner displayed a powerful voice with impeccable tone that sounded a lot like Sting at times, but you didn't hear me say that, lol.   Sumner also showed the Bird crowd that he had a sense of humor busting on Pete Wilhoit in between songs.   Seton Daunt could be heard with awesome guitar riffs and Pete Wilhoit was bangin' on his drums like there was no tomorrow.   The overall sound from Sumner and Daunt from England and Wilhoit from Bloomington, IN proved that there is no separation between a strong chemistry.   Simply a remarkable performance by Fiction Plane and it will be a night to remember.
"Fiction Plane is huge in Europe and also people are always messing up the name of the band", said Sumner.
Well, let's make Fiction Plane huge right here in the U.S.A–how about it!   And let's remember the name, Fiction Plane because they don't seem to be going away anytime soon.   So, let's make Joe Sumner proud of us for at least giving it a try, if nothing else.
Words By: Jimmy Rae – jrae23@comcast.net      
[Rating: 5/5]