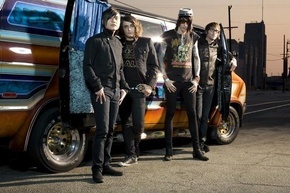 The rapidly rising young Hollywood-based electro-pop/rock quartet Metro Station will headline a major North American tour — dubbed Disco Balls & Blow Up Dolls — this fall beginning October 15 in Nashville, Tennessee and finishing November 29 in Anaheim, California.
Metro Station's Disco Balls & Blow Up Dolls tour will showcase sets from stellar support acts including the alternative hip-hop duo Shwayze, pop rapper Tyga, and emergent New Jersey popsters Cash Cash.
Currently winding up a series of shows as one of the featured attractions on the Soundtrack Of Your Summer Tour 2008 with Columbia Records labelmates Boys Like Girls and Good Charlotte, Metro Station will preface its North American headline tour with a string of Canadian dates running through September 13 as support act for Simple Plan.
"Shake It" Video
METRO STATION – Tour Itinerary
Soundtrack Of Your Summer Tour
8/19         Baltimore, MD                         Six Flags (MtvU VMA Tour)
8/20         Philadelphia, PA                   Pier @ Penn's Landing
8/21         Jackson, NJ                                 Northern Star Arena
8/22         Providence, RI                         Lupo's
Metro Station – "Disco Balls & Blow Up Dolls" North American Fall Headline Tour
10/15     Nashville, TN                           Rocketown
10/16     Cincinnati, OH                         (Radio Show – WKRQ)
10/17     Sauget, IL                                       Pops
10/18     Las Vegas, NV                         KMXB – Bite of Vegas (Metro Station w/ support TBD)
10/19     Milwaukee, WI                       Eagles Club
10/20     Minneapolis, MN                 Epic
10/22     Cleveland, OH                         House Of Blues
10/24     Chicago, IL                                   House Of Blues
10/25     Pontiac, MI                                   Clutch Cargos
10/28     Foxborough, MA                 Showcase Live
10/29     New York, NY                                               Nokia Theater
10/30     Sayreville, NJ                           Starland Ballroom
10/31     Baltimore, MD                         Sonar
11/2         Philadelphia, PA                   Electric Factory
11/4         N Myrtle Beach, SC         House Of Blues
11/5         Jacksonville, FL                     Plush
11/6         St Petersburg, FL                   Jannus Landing
11/7         Ft Lauderdale, FL               Revolution
11/8         Lake Buena Vista, FL   House Of Blues
11/9         Atlanta, GA                                 Masquerade
11/11     Houston, TX                               House Of Blues
11/12     Dallas, TX                                     House Of Blues
11/13     Austin, TX                                     La Zona Rosa
11/14     Tulsa, OK                                       Cains Ballroom
11/15     Omaha, NE                                   Sokol Underground
11/16     Englewood, CO                     Gothic Theater
11/18     Salt Lake City, UT             In The Venue
11/20     Seattle, WA                                   Showbox
11/21     Portland, OR                               Roseland
11/22     San Francisco, CA             The Warfield
11/23     Chico, CA                                       Senator Theatre
11/25     Tucson, AZ                                   Rialto Theatre
11/26     San Diego, CA                         Soma
11/28     Los Angeles, CA                   Club Nokia L.A. Live
11/29     Anaheim, CA                             The Grove