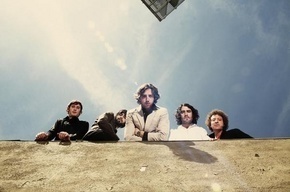 They say home is where the heart is and that cliché seems to work for indie outfit Low Vs. Diamond. For the past few years the agro-paced Los Angeles has been their base of operations but last week, LVD bassist/Jersey native Jon Pancoast and crew descended on New York and the Late Show with David Letterman.
"I love the vibe," Jon said of being so close to home. "Cars are honking horns, people are pushing each other, it's good to be back on the East Coast, it reminds me of home."
When I caught up with Jon and company, they were combing the streets of Manhattan in between press appearances in support of their self-titled Epic debut. During the interim he gave Skope the low down on how they've made the most of random chance, why they owe Letters To Cleo a debt of gratitude and where this diamond gets its luster.
Their roots in music aside, it was a chance meeting in Los Angeles that got this massive indie-alt ball rolling and ever since they have been bowling over record execs, producers and the music media at large. Here's how it all went down!
"Remember the band Letters To Cleo?" Jon asked. "Well, our [Jon and Anthony] old producer was their bassist and their producer, Stacy Jones, was the drummer, Howie, Tad and Lucas were looking for a bassist and a guitarist who could sing and we were introduced that way; it was really random."
 
The rest they say: is history. Stacy Jones came on board as producer for the fledgling group around the same time he became V.P. of A&R for Epic Records. After pitching LVD to the higher-ups, they were signed in late 2006 and went to work in earnest on their major label debut.
"We focused on chord structure and the melody, kind of hip but not too hip," he said. "We wanted the songs to encapsulate the huge moments in them-big chords and big melodies. All the tracks reflect real people in real-life situations and we're just like everyone else and we're writing about that in the songs."
What has emerged from their debut effort is 11-tracks of emotive lyrical content over lush soundscapes that eschew individual effort for the sum of the parts. Howie's drums meld with Jon's bass work, which in turn provide a foundation for Tad and Anthony's guitars-whether soaring or demure. Lucas rounds out the final aural layer with rich, deep vocals that at times climb into almost falsetto range. From track to track, one facet keeps emerging: this band is complete.
Low Vs. Diamond is supporting their debut with roadwork, all the while continuing to rack up accolades from the music media radar. They should be on your radar as well.      
www.lowvsdiamond.com
   
Words By: Chris West – cwest@skopemagazine.com  
Photo By: Phil Knott