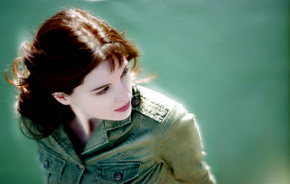 Sire Records is pleased to announce that it has signed Meaghan Smith to the label's roster. Smith, a singer-songwriter and animator from Halifax, Nova Scotia in Canada, has made a four-song CD/DVD, entitled The Cricket's Quartet, which will be available for purchase via Smith's website online via all digital retailers, and at shows on her upcoming tour supporting Ron Sexsmith.
The tour launches in New Jersey at Maxwell's on September 15th and concludes in Los Angeles on October 11th. See below for all tour dates.
The Cricket's Quartet is a perfect introduction to this charming newcomer, who grew up singing, playing piano, and drawing. The child of a piano-teacher mother and a bass-playing father, Smith devoured old musicals and animated films and later fell in love with the jazz and big-band music of the '20s, '30s, and '40s. Those early inspirations influenced the timeless quality of the music on The Cricket's Quartet, which features four songs: "I Know," "If You Asked Me," "A Little Love," and "Drifted Apart."
"I wanted the music to make you feel like you're leaving one world and entering another," Smith says. "It feels like a colorful and unique place that reminds you of your past, but encourages you to look forward to your future."
To further invite the listener into her musical world, Smith, who has worked as an animator for the past several years, has also created four whimsical videos, one to accompany each track on the CD. On "I Know," Smith strolls through a lush green country landscape (actually a Girl Scout camp outside of Manhattan) and is serenaded by a whistling, top-hat-wearing animated bluebird. "Drifted Apart" features Smith riding lazily on a swing in front of a rustic homestead before floating into a moonlit sky as animated birds and green lights float by.
"A Little Love," "I Know," and "Drifted Apart" were shot by Robert Schober (aka Robosho) – a Los Angeles-based video director and animator who has helmed unique clips for The B-52s, Hot Hot Heat, and the Donnas. "If You Asked Me," was shot by Adam Egypt Mortimer – a Los Angeles-based video and commercial director who is currently directing of series of experimental short films for Fox Atomic.
The four songs on The Cricket's Quartet were recorded with producer, Les Cooper. The songs will also appear on Smith's full-length-debut album, entitled The Cricket's Orchestra, which will be released by Sire Records in early 2009.
Meaghan Smith's tour dates with Ron Sexsmith are as follows:
9/15                                 Maxwell's                                                             Hoboken, NJ
9/16                                 Bowery Ballroom                                   New York, NY
9/17                                 Tin Angel                                                               Philadelphia, PA
9/18                                 T.T. the Bear's                                             Cambridge, MA
9/19                                 Jammin' Java                                                 Vienna, VA (DC Suburb)
9/22                                 The Belcourt Theater                       Nashville, TN
9/24                                 The 5 Spot                                                           Atlanta, GA
9/25                                 20th Century Theater                       Cincinnati, OH
9/27                                 Schuba's                                                                 Chicago, IL
9/28                                 Shank Hall                                                           Milwaukee, WI
9/29                                 Varsity Theater                                           Minneapolis, MN
10/7                                 Triple Door                                                         Seattle, WA
10/8                                 The Doug Fir Lounge                       Portland, OR
10/9                                 Great American Music Hall San Francisco, CA
10/11                             The Troubadour                                       Los Angeles, CA