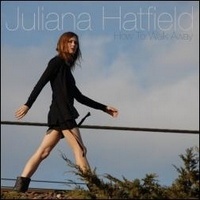 Juliana Hatfield opts for the middle road in her most recent How to Walk Away. Laden with Sheryl Crow jangle, but full of the burning of Tegan and Sara or Amy Ray, Hatfield's seventh solo album narrates the act of leaving a faded relationship.
Hatfield abandons the angst ridden scowls of yesteryear for a more level headed examination of the end in her seventh solo attempt, but this glowing pop album isn't all glimmering simplicity. The songwriting conquers a common topic with insight, leaving listeners with a big bowl of creamy macaroni and cheese for the back country porch.  
Hatfield's thin and wispy voice has matured and grown a bit huskier since her last album, an attribute that works especially well for songs like the assertive "So Alone" and the beautifully written "Law of Nature." "I'm heading your way into your burning flame, it's the law of nature," Hatfield croons in her track of the same name. "I take what I need / Spit out the bones and seeds / Curl up with your skin to keep me warm / Reason has no chance in this selfish world."
Hatfield switches from cynical to nostalgic in "Remember November," and then dismisses the chance for love in her contagiously, hook dominated "Just Lust." With an irresistibly sweet and bold dose of honey she sings, "It's just lust, it doesn't even mean I like you very much."
Richard Butler of the Psychedelic Furs, Matthew Caws of Nada Surf, Tracy Bonham, and Jody Porter of Fountains of Wayne all appear in How to Walk Away, adding to the album without dominating our alt-indie rock darling, allowing her to sparkle in her alt-country Technicolor from start to finish.
Some longtime Hatfield fans will be pleased with the complacency of How to Walk Away; others will find empty disappointment. One thing will always ring true for the woman who was voted "Most Individualistic" by her high school classmates: When Juliana Hatfield teaches us How to Walk Away she does it with confidence, at her own pace and on her own accord.
Words By: Lauren Proctor