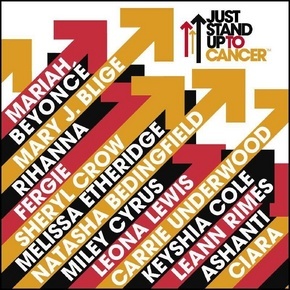 SONG UNITES MEGASTAR CAST:   MARIAH CAREY, BEYONCE, MARY J. BLIGE, RIHANNA, FERGIE, SHERYL CROW, MILEY CYRUS, MELISSA ETHERIDGE, ASHANTI, NATASHA BEDINGFIELD, KEYSHIA COLE, CIARA, LEONA LEWIS, LEANN RIMES, AND CARRIE UNDERWOOD!
More than a dozen of the world's most accomplished female recording artists – a cast that includes Mariah Carey, Beyoncé, Mary J. Blige, Rihanna, Fergie, Sheryl Crow, Miley Cyrus, Melissa Etheridge, Ashanti, Natasha Bedingfield, Keyshia Cole, Ciara, Leona Lewis, LeAnn Rimes, and Carrie Underwood – have joined together for "Just Stand Up," an unprecedented charity single in support of Stand Up To Cancer (SU2C), a new initiative to raise philanthropic dollars for accelerating ground-breaking cancer research.
 
"Just Stand Up" was conceived by Antonio "L.A." Reid, Chairman, Island Def Jam Music Group, after a powerful and inspiring meeting with the women who organized the Stand Up To Cancer campaign (whom Reid affectionately dubbed the "magnificent seven").   The song was produced by L.A. and Kenny 'Babyface' Edmonds – their first creative reunion on record in nearly two decades.   "Just Stand Up" will be released to radio and will be available to purchase exclusively on the iTunes Store starting September 2nd.
 
"Just Stand Up" is all about the singers and the composers banding together behind SU2C's mission: rallying the public around the goal of ending cancer's reign as a leading cause of death.   The all-star television perform ­ance premiere of the song will take place live on Friday, September 5th (8pm EDT and PDT), when ABC, CBS, and NBC simultaneously devote one hour of commercial-free prime time to this nation ­wide event.   This will be the first simultaneous cross-network broadcast ever to raise funds for the fight against a disease.  
 
In addition to performances by legendary recording artists, the Stand Up To Cancer special will feature stars from film and television that will perform as well as present filmed content giving viewers insight into cancer.   Various screening tests will be demonstrated in novel and entertaining ways.
 
Network news anchors Charles Gibson, Katie Couric and Brian Williams will report on potentially life-saving research, speaking with both patients and scientists.   Laura Ziskin will produce the September 5th broadcast.   Ziskin is a cancer survivor and her film credits include the Spider-Man trilogy, As Good As It Gets, and Pretty Woman, and she also produced the 74th and 79th Annual Academy Awards.