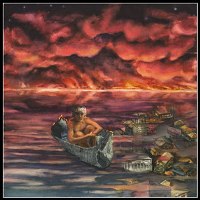 Ambition and intelligence can be a tricky thing to incorporate into rock music. If not done properly, a band tackling new ideas can easily come across as self-indulgent and pompous. Realizing that, there has to be both trepidation and excitement concerning the first release from the band called The Empty Mirror which was originally founded in Ohio in 2005 and centers around vocalist Grant Valdes
The reason for these feelings is The Empty Mirror is hard to categorize. In fact, the band's official website mentions the band's sound as "where sweet melodies struggle for survival in a surreal disaster area of electrical guitars." Pretty heady stuff.
Anyway, is that a correct way to describe the songs on the band's current CD, Overwhelm? Well, yes. There is no doubt about it; this record rocks . . . hard. The guitars of Valdes and Kerry Kallberg perfectly complement each other and they sound like a mash-up of many of the better alternative rock bands such as the Smashing Pumpkins, Mars Volta, and even Radiohead.
Arguably, the best example of this is the opening track "Zeppelins in the Fiery Sky." The song opens slowly with Valdes' singing and a minimal backing track but once the electric guitars kick in, there in nothing but beautiful noise. Some of Overwhelm's other standout tracks include the Radiohead-like "PH" which is surprisingly the catchiest song of the bunch and "Shoestring Century" which starts off as a slow ballad but finishes with an impressive explosion of guitars.
Despite all this, Overwhelm is exactly what the title suggests . . . overwhelming. This is the case mostly when it comes to the songs' lyrical content which tackles heavy subject matter. Even with a lyric sheet nearby, it is sometimes hard to figure out what a song is trying to say. Still, you can't call this band self-indulgent and pompous. There are enough positives on Overwhelm to make The Empty Mirror a band to keep an eye on in the future.
Words By: Todd Sikorski