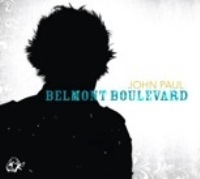 Being a young singer-songwriter can be extremely tough nowadays with record companies not willing to nurture an artist unless there is a smash debut single. Sure, there are a few indie record companies willing to take some chances but they are far and few between.
Unfortunately, Boston-based artist John Paul has to deal with those problems along with the fact many uninformed people might think he plays reggae (no, that is Sean Paul) or gives sermons (no, that would be one of the most famous popes of all time.)
If anyone can overcome those troubles though, it will be the 22-year-old Paul as he has just released the fine CD Belmont Boulevard. The twelve songs on the recording showcase Paul's solid songwriting talents and blissful vocals. As for Paul's sound, the songs on this second CD of his fall into the roots rock genre with splashes of country and folk sprinkled throughout.
Many will obviously compare Paul to Ryan Adams because the two sound alike vocally and Adams' current drummer, Brad Pemberton, plays on Belmont Boulevard.   Still, this is not fair to Paul because the young man is a unique storyteller and songwriter whose lyrics consistently resonant.  
For example, the disc's opening song "21" is a solid uptempo number with great harmonies about the uncertainty one feels at that age knowing life's pressures are only beginning. Lyrically, Paul's finest moment though is on the closing song, "Way Too Soon," which tells of the death of a young girl in vivid, heartbreaking terms.
All the songs are not somber stuff, however. The country-inspired "Drink and Drive" is an amusing track about friends who partied a little too much and ended up hooking up while the Goo Goo Dolls-like track "Our Time" features a hopeful chorus about the beauty of change.
That said, special praise should also go to Paul's backing band which features some great session musicians and they add plenty of flavor to the youngster's songs. In the end, however, this is Paul's show here and he proves he is very talented who deserves success.
Words By: Todd Sikorski