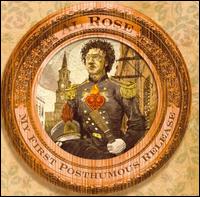 One of the more intriguing songwriters that have come out of Chicago in the past decade is Al Rose. Once a leader of the cult rock band Buffalo Trout, Rose is strictly an indie artist now but his live shows with his backing band The Transcendos have made critics swoon for a while now.
Rose hasn't fared too badly in the recorded output department either as he has released four well-received albums. Now, comes his latest, the brilliantly titled My First Posthumous Release which finds Rose (who is still alive, by the way) concentrating on Americana and folk music.  
This latest release by Rose is most interesting because it features what the songwriter does best–write witty lyrics that always entertain. The title track is an excellent showcase of this as the hilarious song is about the misguided popularity of musicians once they are dead.
Also impressive is how Rose carries over lyrical elements into subsequent songs which happens nicely in the third and fourth tracks, where the last train blows its whistle in "I'm Gonna Miss Me When I'm Gone" and then segue ways into a bunch of missed trains that go by in "All The Trains Are Gone."
As for My First Posthumous Release's music, Rose gets fantastic support from The Transcendos and some featured guests. Guitarist Steve Doyle is impressive throughout, particularly with his understated work on "Soft Core Hope." Rose also livens up his songs with instruments not normally associated with roots music such as the congas, vibes, and trombone.  
For some, the biggest drawback on this release will be Rose's singing style. He sounds a lot like one of his musical heroes, Bob Dylan, but his words are never incoherent which can sometimes be the case with the world's best songwriter. Still, once you get used to Rose's singing, there are plenty of jewels to be found on My First Posthumous Release.
Words By: Todd Sikorksi