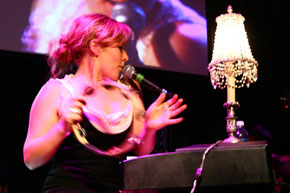 The Hush Sound played last night with Hey Monday, Morning Light, Steel Train, and The Cab in Fort Lauderdale at the Culture Room.
Steel Train is a rambunctious rock band from New Jersey with edgy chords and dramatic progressions. The legacy of Jersey rock lives on; some riffs are reminiscent of Springsteen and other classic rockers. Despite their strong connection to the past they are a forward-looking band that bring new dimensions with their take on classic rock and roll.
Both lead vox Jack Antonoff and guitarist Daniel Silbert were sporting the curly black afro. They have a finely tuned sound and are nothing new to the spotlight — they were on Conan in July. They are also no strangers to fame — Jack used to date Scarlett Johansson. In fact their song "Better Love" is about her with a few others making reference to her.
Las Vegas natives The Cab played their saccharine sweet ballads. They have a really boy-band sound sort of along a rock styled Justin Timberlake or maybe even Maroon 5. There were plenty of shrill screams of teenage girls swooning for this non-threatening example of male sexuality in front man Alex DeLeon. DeLeon has an undeniably good voice but may prove too boyish for some listeners. There were frequent sing alongs by the group of tightly packed teenage girls towards the front. First song was "I'll Run", which is very upbeat, blue-eyed soul. They have a good stage presence and engage the crowd – the girls in the audience loved their vibe. Most of their music is of the love stricken flavor and the teens were eating that up. There were some very impressive guitar solos by Ian Crawford. Despite their ability to rock they are too cutesy at times – very bouncy happy and sort of sappy. But they are undoubtedly talented musicians. Juliet, the singer from the opening band, and West Palm locals, Hey Monday, made a surprise appearance on stage. Next song was "Can You Keep a Secret". The vocals here were a bit over powered — the instrumental drowned out DeLeon's voice at times. I also need to take the opportunity to let you know the Culture Room soundman scares me. He looks like some sort of Gene Simons looking cult leader. Last song called "Bounce" – has a great bass beat and thrash guitar staccato with power metal riffs.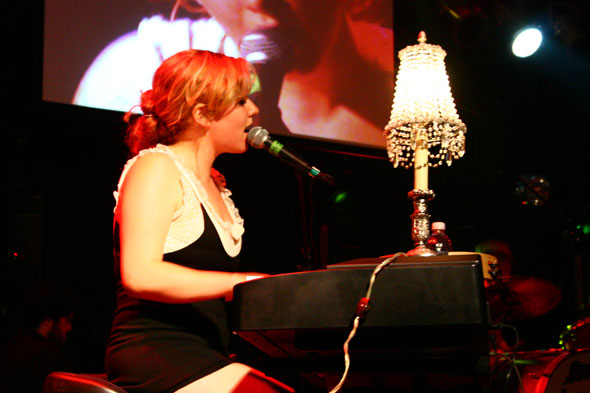 The Hush Sound opened their first song with co-vocalist Greta Salpeter sitting at her keyboard with a crystal lighted lamp perched on top setting a perfect mood. Salpeter's songbird vibrato mixed with a sexy smokiness — she possesses a great vocal range; she is able to sing quite competently in the higher registers. In many ways, her voice is similar to Fiona Apple and Nicole Atkins with that wavering harmonic.
The first moments of the set were marked by the low-key smoky style, which segued into up-tempo and bouncy jazz melodies. A bearded Bob Morris is the other half of the vocal equation in their band. He was dressed in all black and quickly led in to a staccato sing along. The music was energetic and triumphantly upbeat. Then ominous keys started the next number. Male and female vocals struck a beautiful balance. There was vigorous hand clapping and enthusiastic sing alongs on "Sweet Tangerines". Next song "Hurricane" started out very intimate and soft with Salpeter delicately caressing the keys and singing sweetly, "Your the finest thing I've ever have done / The hurricane I'll never outrun". These heartfelt lyrics where immersed in melancholic guitar whines. The next song had a pop sound and alternated between Salpeter's singular voice amidst a hushed sounding melody with it switching to a louder instrumentation.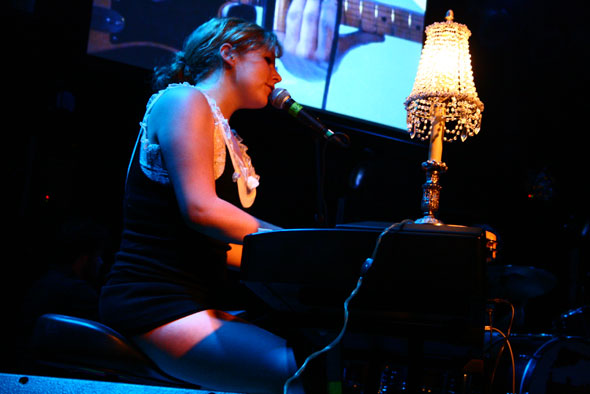 Bob Morris appealed to the crowd, "We need everyone clapping Fort Lauderdale". On "Medicine Man" they brought the catchy hooks with audience participation on the oh-oh-ohs chorus. Salpeter crooned on her piano bench pounding like a virtuoso on the keyboard. Morris took the stage with only the guitarist for "Momentum" – intimate and plaintive lyrics built into more upbeat proclamations – alternating between insecurity and confidence. Frequent sing alongs showed that the crowd was made of real fans. The performance was heartfelt and expressive. Salpeter ditched the bench briefly taking the center stage with her acoustic guitar and embarked on a mid-tempo country rendition of "Wine Red". Then they did a surprising cover of Jackson Five "I Want You Back". Members of The Morning Light joined them on stage for this one. Salpeter was able to affect a pretty good early Michael Jackson.
The encore consisted of three songs with one being a tribute to Obama — "We believe in Barack Obama" was the chorus. The intro to this song was an appeal to vote, "The most important thing is you go out and vote." Last song was a romping rendition of "Honey" which offered up a jazzily upbeat performance supporting sexy vocals and defiant lyrics.
Words: Shaun Flagg
Photos: Norrel Blair
SEE MORE PHOTOS BELOW
[album:http://skopemag.com/images/HushSound081508/]