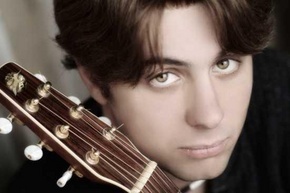 Being an independent musician has got to be one of the most honorable things to be. To create music from your heart and then to put it out there for the world to critique earns massive respect.
This next musician is a musician by the name of Jerad Finck. Jerad comes to us from Spokane, WA where the music scene is thriving right now. Jerad is about to release his self titled solo album and embark on a national tour.
Jerad began playing music at the age of 7. "I found a trumpet in my parent's attic and began playing jazz." Since then Jerad's family has been incredibly supportive in every aspect of his musical endeavours.
Jerad is truly a working musician. When he is not playing live he is a social worker and in school for his masters. "I have been a shrink for disabled people for over 10 years." Jerad is also an A&R for indie label, Hit Street Records. Jerad told me, "I want to do music full time for the rest of my life. I would love to get a Grammy." Jerad might just see that wish come true as super-producer John Seymour produced his new album.
Jerad has a true appreciation for The Beatles. "I love listening to Beatles records, I even bought all their scores." Jerad really got a close encounter with the boys as he mastered his album at Abbey Road in London with Steve Rooke. London is a good city for Jerad as well. "When I was  in London, I met  this amazing  woman from Portugal. I wrote her a track and made her a video on my MAC. Now she is here  visiting me in Spokane." London is also the city where Jerad wrote his MySpace hit, "Whatever You Want."  Jerad's music  alone has garnered over 730K plays to date.
Jerad is no stranger to the road. "I was in Chicago and the audience started singing along. That was an amazing feeling." Before Jerad goes on stage he puts on some Beatles albums to loosen up.
When Jerad is not doing music (which is not often) he is self-proclaimed hermit & wino. Jerad told me, "I like to read alot. I watch movies, and I am big vinyl guy. I also play video games."  
After spending an hour on the phone with Jerad I am a believer. Here is a man that is doing what he loves while also doing what he needs to pay the bills. When I asked him what keeps him creative & motivated he said, "I strive to write a better song. I write a great song and that makes me want to do another that is better." When asked what female artist Jerad would duet with he answered immediately, Tracy Chapman.
Jerad's life is about to get very hectic. He just finished a high-budget video in Washington, DC with Joseph Pattisall. He is looking at movie licensing offers and just ready to introduce himself and his voice to the masses. I will tell you one thing, Stoli is listening!