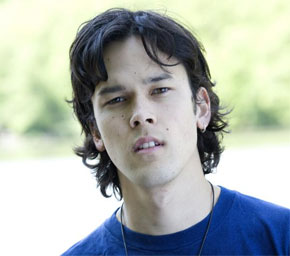 U.S. Television Debut On Jimmy Kimmel Live! * Headlining Yoga Month Health And Wellness Festival on Eve of Democratic National Convention * Steve Madden Music's Artist Spotlight For September!
Nineteen year old Justin Nozuka will set out on his first U.S. headlining tour in support of his debut album, Holly (4/15, Glassnote/RED Distribution), on September 18th in Buffalo. The Gabe Dixon Band supports on the coast-to-coast, five-week run. See all dates below.
In addition to his tour, the Toronto, Canada native will be making his U.S. television debut on Jimmy Kimmel Live! (ABC — 12:05/11:05c) on Sept 16th.
The soulful singer-songwriter is also headlining a benefit concert at the Yoga Month Health And Wellness Festival, a nonpartisan health festival that kicks off the Democratic National Convention, on August 24th in Denver at City Park. The festival is the first of a series of national events geared towards inspiring a healthy and informed lifestyle. For more information visit: http://www.yogamonth.org/event/yogahealthfestivalsDenver.php
Justin Nozuka tour dates:
8/24 — Denver, CO @ City Park (Yoga Month Health And Wellness Festival)
8/29 — Honolulu, HI @ Pipeline Cafe
Headlining tour with The Gabe Dixon Band
9/18 — Buffalo, NY @ The Town Ballroom
9/19 — Boston, MA @ Paradise Rock Club
9/20 — Northampton, MA @ Pearl Street (downstairs)
9/22 — New York, NY @ Bowery Ballroom
9/24 — State College, PA @ The State Theatre
9/25 — Pittsburgh, PA @ Rex Theatre
9/27 — Towson, MD @ Recher Theatre
9/28 — Philadelphia, PA @ Theatre of Living Arts
9/30 — Cleveland, OH @ House of Blues — Cambridge Room
10/1 — Detroit, MI @ Sanctuary
10/02 — Plymouth, WI @ Turner Hall
10/04 — Chicago, IL @ Martry's
10/05 — Minneapolis, MN @ Varsity Theatre
10/08 — Denver, CO @ Bluebird Theater
10/9 — Salt Lake City, UT @ Murray Theatre
10/10 — Dallas, TX @ Cambridge Room
10/11 — Austin, TX @ Antones
10/12 — Seattle, WA @ Neumos
10/13 — Portland, OR @ Berbattis Pan
10/15 — West Hollywood, CA @ Roxy Theatre
10/17 — Phoenix, AZ @ Martini Ranch
10/19 — Pomona, CA @ The Glass House
10/21 — San Francisco, CA @ Great American Music Hall