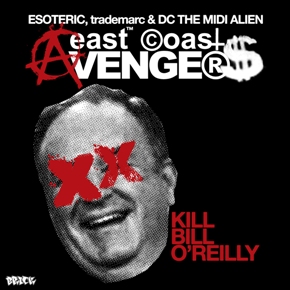 We are just getting in this exclusive download from The East Coast Avengers.
This is an underground hip hop trio made up of ESOTERIC, TRADEMARC & DC The MIDI Alien. Bill O'Reilly has had no issues at all going after hip hop artists like Ludacris & Jay-Z. I guess it was time for ECA to have a say.
We had Stoli take a listen and he said, "The beef is on. The beat is tight and the emcees hold nothing back. Esoteric brings straight heat, loving that aggressive approach. He goes as far as threatening his family calling him a rapist, sexist, and racist."
Now we ask the people, does this track go too far or is their  anger  justified?
East Coast Avengers (ESOTERIC, TRADEMARC & DC The MIDI Alien)
LISTEN TO "Kill Bill O'Reilly"
[audio:Kill Bill – East Coast Avenger.mp3]