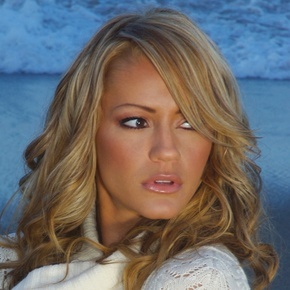 Peak Records presents the release of Leigh Jones' debut album Music in My Soul on September 9th. Blue-Eyed Soul Songstress Leigh Jones is described as a natural soulful white female R&B singer. Groomed for her debut CD by legendary Motown Records founder Berry Gordy and Stax Records executive Al Bell; Leigh has recorded an assured and semi-autobiographical gem.
"Free Fall" Audio Streams:
Only once in an era does a young performer come along who is so dazzling, so captivating and so undeniable in their talent that they gather the gale force of the most respected icons in the business beneath their wings. Los Angeles-based singer/songwriter Leigh Jones is that amazing once in a lifetime artist. Having made passionate believers and hands-on supporters out of both Motown Records founder Berry Gordy AND Stax Records maverick Al Bell, Leigh Jones is fortified to take on the international pop music marketplace with her powerful debut album, Music in My Soul (on Peak Records — a division of the Concord Music Group).  
Destined to be heralded as possibly the most naturally soulful white female R&B singer since Teena Marie, Leigh (pronounced lee) has recorded an assured and semi-autobiographical gem of a debut. The 12-song album literally swings from the mission statement title track (complete with scat lines and lusciously layered backgrounds) to a contemporary spin on the DeBarge classic "All This Love" specially produced for her by smooth jazz giant Wayman Tisdale. Pop production great Walter Afanasieff (along with Clark Anderson) got behind Leigh with the bittersweet funk of "Freefall" while songwriting legend Bruce Fisher (composer of "You Are So Beautiful," among scores of other classics) worked with Leigh on nearly half of the album's songs. Fisher states, "Leigh Jones is a pleasure to work with, a delight to listen to and a joy to behold."
Compositionally, Leigh turns in a finger-snappin' piano jazz rave up titled "Cain't Get Enough of Your Love" as well as the lowdown backbeat blues "I'm Leavin' You." And in what is the coup of the year, she inspired the legendary Berry Gordy to come out of retirement to produce the song "Cold in L.A.," an introspective meditation on the façade of phoniness that naïve hopefuls find when they first arrive in Hollywood. It's a story Leigh knows all to well as she has been diligently honing her chops and taking her knocks on the scene for a few years now.
The daughter of a prolific Hollywood session singer/former Berklee School of Music instructor and the graduate of a Los Angeles County High School for The Arts (Josh Groban was a classmate), Leigh Jones has been developing a steady buzz ever since she was taken under the wing of industry veteran Kerry Gordy. "I had a concept for an idea unique to the marketplace," he states.   "I told my staff to find me a beautiful young girl who had soul at the very core of her being. They brought me over a 100 girls to audition, but when Leigh sat next to me – before she even opened her mouth – I knew she was the girl. And when I got her in the studio, she was even better than I could have imagined." After Leigh and Kerry matched wits on Billie Holiday's proverbial "God Bless the Child," they've been sworn and loyal partners in creative crime ever since.
"I've always known that I wanted to be a singer," says Leigh who first sang in public performing the Pointer Sisters' "American Music" at a first grade talent show. "I loved R&B from the very beginning. My family had a lot of jazz around the house. And my father worked closely with the great Clare Fischer, so we had lots of great musicians coming through our home. I'd accompany my dad to sessions, soaking up the vibe, and even got to sing on a Power Rangers clip." Leigh gravitated toward songwriting at a young age and has been working diligently at it ever since.