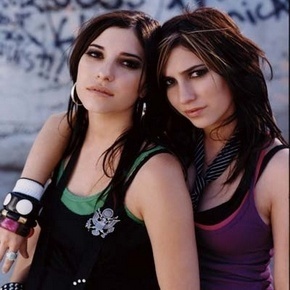 Hook Me Up , the second album from The Veronicas, is due in stores on August 26, 2008. Sire Records released a digital version of the album, a dance-friendly electro-rock sizzler that showcases Aussie twin sisters Lisa and Jessica Origliasso 's expert songcraft, organic vocal chemistry, and sophisticated sensibilities, on iTunes in May 2008.
The eye-popping video for "Untouched" – the first single from Hook Me Up –earned the super-hot duo a performance on the MTV's TRL, which is airing August 20th at 11amEST. The video, which debuted at No. 10 on TRL's Top 10 Video Countdown on July 16th, is currently on MTV Hits in medium rotation and on the N Network in "really like" rotation. The Veronicas will also be featured as an 'Incoming Artist' on the Fuse Network for the month of August.
The Veronicas are hitting the road with the Jonas Brothers for a select string of shows later this month (tour dates below). The girls completed a run on the successful Verizon Wireless VIP tour with British songstress Natasha Bedingfield earlier this summer, playing to packed houses every night. They also earned raves for their club shows in Los Angeles and New York. As Blender.com noted of an April show in Manhattan: "These girls can sing. And they flip off rock-star moves with the ease of stadium-trained pros."    
Hook Me Up represents a stylistic leap from the girls' 2006 debut The Secret Life Of… by swapping the latter's pop-punk leanings for Hook Me Up's dance friendly, beat-driven feel. "It's been more than two years since we wrote the first record so our musical tastes have changed a bit," Lisa says. "We've been living in Los Angeles where we got into the whole electro-pop rock scene. When it came time to write the new album, we were really inspired by it musically." Adds Jess: "We didn't want to make a record that was the same as the first. We definitely wanted to create a different sound for ourselves and reinvent The Veronicas."
Hook Me Up was recorded in Los Angeles, where Lisa and Jess are based, with a host of top notch hitmakers, including Shelly Peiken (Christina Aguilera), Greg Wells (Mika), John Feldmann (The Used, Good Charlotte), Billy Steinberg (Madonna), and their Secret Life collaborator Toby Gad, who also wrote Fergie's 2007 hit "Big Girls Don't Cry."
In their native Australia, The Veronicas have watched Hook Me Up achieve double-platinum status with sales of 164,000 and spawn the girls' first No. 1 single with the title track. The Veronicas debut album, The Secret Life Of … sold more than 300,000 copies, scored three of their five Top 10 singles, won a slew of awards (including a coveted ARIA), and made the Brisbane natives, now 23, international stars.
The Veronicas tour dates with Jonas Brothers are as follows:
DATE                             CITY                                                                               VENUE
Aug 22                         Cuyahoga Falls, OH                             Blossom Music Center
Aug 23                         Columbus, OH                                                 Nationwide Arena
Aug 24                         Chicago, IL                                                             First Midwest Bank Amphitheatre
Aug 26                           Pittsburgh, PA                                                 Post-Gazette Pavilion    
Aug 27                           Camden, NJ                                                       Susquehanna Bank Center
Sept 2                             University Park, PA                                 Bryce Jordan Center
Sept 4                             Tampa, FL                                                           Ford Amphitheatre
Sept 5                             West Palm Beach, FL                       Cruzan Amphitheatre