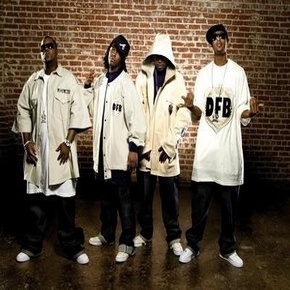 KOCH Records is pleased to announce the release of a brand new album by Platinum digital artists Dem Franchize Boyz.
The group's KOCH Records debut, Our World, Our Way will be released on September 30th, 2008. The album features guest appearances by Lloyd, Mannie Fresh, and more.
Dem Franchize Boyz, comprised of Jizzal Man, Parlae, Pimpin and Buddie, is one of the South's biggest rap groups. Having sold over 800,000 units to date and with smash hit singles under their belts like "Lean Wit, It Rock Wit It," "Ridin' Rims," "White Tee," and "I Think Dey Like Me," the group is exploding.
Now, Dem Franchize Boyz is back with their 3rd album and KOCH Records debut, Our World, Our Way, which hits stores on September 30th.   The album includes the new single "Turn Heads" ft/ Lloyd and will be impacting at all radio and video outlets across the country.  
To hear "Turn Heads" go to:
Check out the viral video for "Mr. Feel Good" feat. Mannie Fresh: