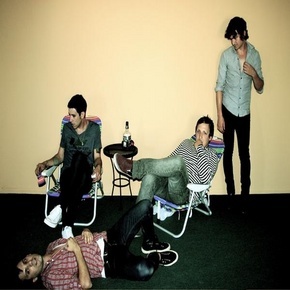 The music of Army Navy is best described as impeccably crafted melody over blankets of guitar fuzz that creates a delicate balance between melancholy and joyful resignation.
The band looks to groups from the past like Teenage Fanclub, The Smiths, The Posies and The Libertines for inspiration while keeping a firm eye on the future. Set for an October 14, 2008 release, the debut album will be issued on the band's own The Fever Zone record label and features a wondrous mix of modern power-pop playfulness and timeless Brit-pop elegance consistently through its 12 tracks. Produced by Adam Lasus (Clap Your Hands Say Yeah!, Yo La Tengo, etc.), the album is a never-ending barrage of touchstones from a band that references the past at every corner of the record yet is forging new musical pathways with every song they pen.
After co-fronting the band Pinwheel with Death Cab for Cutie's Ben Gibbard, Army Navy frontman Justin Kennedy moved out to Los Angeles to seek out his own assemblage of dedicated musicians. Through the relentless word-of-mouth received from Kennedy's demos, a final line-up was eventually formed, including Louie Schultz (Guitars, Keyboards, Vocals), Benjamin Gaffin (Bass), and Doug Randall (Drums, Vocals).
Gearing up for this release, along with being featured on the soundtrack to the upcoming hilarious film Nick and Norah's Infinite Playlist (starring Michael Cera), Army Navy are poised to bring their music to as many willing listeners as possible. From the sweet, infectious jangle of "Saints" to the sweeping gracefulness of "Unresponsive Ears," a song seemingly ripped out of Moz's countless songbooks, Army Navy is an amazing recital filled with equal parts purpose and merriment.
http://www.myspace.com/armynavy
Upcoming appearances:
Aug. 13               Redwood Bar                         Los Angeles, CA
Sept. 2                 Mercury Lounge                 New York, NY
Sept. 4                 Union Pool                                   Brooklyn, NY
Nick and Norah's Infinite Playlist trailer: