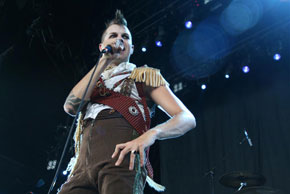 Street Drum Corps are known as the punk rock Stomp. The trio put on percussive spectacles featuring a cacophonous collection of traditional drums and non traditional percussion like buckets and garbage cans. This makes for wildly innovative noise making – banging a fire extinguisher against a trash can, followed by layered drum machine samples and bucket slapping rhythmic displays.
They are currently on tour with Linkin Park on the Projekt Revolution music festival circuit getting the word out and introducing legions of fans to the Street Drum sound. They are acting as percussive evangelists building the name and the brand to set the stage for their upcoming projects including a Las Vegas production called "Frantic" and a theatrical production called the "Street Drum Corps Presents Man and Machine". Bobby Alt took some time to speak with me about SDC and his plans to bring their unique drum show to the world.
Listen to it here:
[audio:StreetDrumCorps_08062008.mp3]
Read the interview below.
SKOPE: How is the tour going?
SDC: Just here in Albuquerque, New Mexico with Linkin Park sitting in our dressing room trying to work out an acoustic set. Like acoustic things for radio shows with the Bravery everyday then we're doing an acoustic segment for Alternative Press as well once we get to Ohio. It's cool; it's different for us. We started off as a drum band and now they given us acoustic guitars sooo [laughs]. It's a challenge; it definitely takes us out of our comfort zone and makes us work a little bit harder. We play Phoenix Arizona tomorrow – The Projekt Revolution tour.
SKOPE: How are the fans receiving the music?
SDC: The is one of the most pro tours we've been on. They're treating us like princes out here. It's great. It's a new crowd for us being out here with Linkin Park and these bands. Its almost like a traveling radio show like a K-rock [inaudible]. People in this circle haven't really heard of us yet. It's new fan base for us, we're picking up a lot of new fans. We're selling good merch. Everyone's cheering [laughs]. It seems pretty good. We stick around after and everyone is like oh it's the crazy drum guys. That was the idea because we've been in the punk rock world for the last three years and being this punk rock STOMP or whatever. That's what everyone keeps calling us. You know playing with The Used, and Thirty Seconds to Mars and the Warped Tour. That's a whole vibe, that's a whole thing in itself. And then to come out here with Linkin park is a whole other story. We're really enjoying ourselves.
SKOPE: Where did your grow up? How did that influence you as a musician?
SDC: Adam and I grew in a town called Bernardsville, New Jersey — northern central part of New Jersey. And Frank grew up in Long Island, New York. I've been living in L.A. for like thirteen, fourteen years. My mom moved out to L.A. when I was ten. For a long time I started visiting her in the summers and then I really enjoyed it out there so. But I am also looking into getting a place in Williamsburg., NY too so maybe I will do the bi-coastal thing. My girlfriends there right now shooting a TV show and I went visiting her and we had a couple of days off and that's where she was staying and I really enjoyed it. Growing up in New Jersey it still feels like home. Williamsburg is a pretty hip area. Growing up in New Jersey was a lot of playing drums in the garage, playing drums in the basement. I grew up in a really nice part of town, really rooted. I'm like a family kind of guy. There wasn't a lot of running around. It wasn't like I was going into the city every day. I was only 45 minutes outside of New York but I didn't start visiting New York until I was 16 or 17 years old when I started going out and seeing the Beastie Boys, Rage Against the Machine and Chili Peppers. So I started to go to Roseland and seeing shows. But I think that growing up there I am a pretty grounded family man kind of guy.
SKOPE: Who are your musical influences?
SDC: As far as drumming goes my influences are Jon Bonham, Keith Moon, Tommy Lee, Gene Krupa, Earl Palmer and then as far as other musicians go, Jimmy Page, Jack White and then as far as singers go, Robert Plant and Perry Ferrell, Layne Staley from Alice in Chains and Shannon Hoon from Blind Melon, Bert from The Used. Those are some of my favorite singers.
SKOPE: When did you start making music?
SDC: I started playing drums when I was ten years old and dancing, do dance stuff in the fifth grade. And then I had my first band when I was 13, and I remained…I was always the youngest one playing with all the older kids and they'd come over to my house. I started going to other houses and then it got real serious then and that was what it was for me. I love the business side of music, music business, I love getting the stickers made and the t-shirts made, putting together the concerts and getting people to come. That has just carried on into now. I haven't stopped what I've been doing since I was 13.
SKOPE: How did you come up with the idea for Street Drum Corps? What are your plans for the future of the band?
SDC: It turned out to be a plan. Adam and I were at a show called Adam Alt and Bobby Alt Present Drum Experiment. It all started when we were playing this camp, Camp Joan Meyers and it was for people with disabilities in Malibu, California. It was something with Stephen Perkins from Jane's Addiction and Joey Caparda had started. I was every weekend during July and August. So Adam and I would go up there and would sort of be a drum circle and it was real funs times and these people with disabilities would come up there. When they went back to their families after the summer they started telling them after they asked what was your favorite part and the kids of all these people would say its was the drum circle it was incredible.
So we'd invite friends up and one of my friends was a schoolteacher and he invited us, Adam and I, to come do what we did there at his school for a spirit assembly. We were like whoa what are we gonna do. We would jut experiment whether we were on stage or whatever, let's just go up there and throw up a bunch of pots and pans, buckets, drum sets, fire extinguishers, garbage cans. We threw it all on the stage and played for 45 minutes. Then he asked us to do a high school, which was 3 or 4 thousand kids. Then we did something at the Remo Center. It was a benefit for poverty and families in Brazil and we had just met Frank at that time. He has moved from Log Island to play drums with a band out in L.A. and he knew of my other band STUN that I was in at the time and Frank was like I do this drum show as well in New York in Hersey Park. It's a trash can sort of band called Repercussion, maybe I could come in and help you guys out and we could make a show out of it. We thought that would be a great idea and he was cool guy so we went and made a little video, a little EPK and sent it out to all the theme parks and basketball teams in L.A., and to key people who do private parties. We got hired to do a bunch of stuff with the drum show we put together. The biggest thing that happened to us was a year into it Kevin Wyman asked me what I was doing and I said I was doing this Street Drum Corps thing. He was like oh why don't you guys open for the Warp Tour kick off party at the House of Blues. We put together a really nice show, Adam, Frank and I and played the show. Travis Barker was there, and everyone really enjoyed it. I was loading gear into my mom's mini van out in the parking lot and Kevin Wyman walked up and said I want to offer you guys a record deal, pick a producer and make a record. We worked with DJ Lethal on our first two albums. Now we just signed with Interscope records and we're gonna make out third album for Interscope.
SKOPE: You have an open casting call for more drummers, how are you planning on using these new recruits?
SDC: We're gonna be launching the website next week with Street Drum Corps wants you. Its gonna be our first major auditions. We're having them in downtown Los Angeles on September 18th and drummers from all over the world are coming in and their gonna audition. It's sort of Blue Man style; we won't be treating any one different. We're not only looking for drummers, but we're looking for guitar players, bass players, and keyboard players. Open casting call and we kind of got the Blue Man Group motto of finding people, we'll have call backs a few weeks later once we go through all the resumes and meet some people. Then we're gonna have a training camp day towards the end of the fall and we're gonna pick all of our people. We're getting offers for a lot of private parties now so we're just trying to collect a bunch of drummers, not just drummers but entertainers, good people, people that want to go out there and see the world and have a good time.
SKOPE: What was it like working with DJ Lethal on the album?
SDC: He's great, he's like the Jimi Hendrix of the MPC. He was making the band. We didn't have much material when we first met him. We had a couple bucket routines and garbage can routines but we were heavily influenced by a lot of hip-hop at the time, Jay Z and the Beastie Boys, Run DMC. We knew that Lethal could do a good job. Like I said he jokes around about making the band by taking 3 drummers and made us a real CD. We had samples to show the people kind of what we were doing and by the time we worked on the second album with him were a year into it and we kind of knew how to write songs better and had a way we wanted to go with out music. He helped us out a lot and he was great to have on board. They guys knows his beats and the MPC that little machine we took a lot of our samples and we would put them in there and we would make our rhythms with the MPC so it kind of worked out really good. I think we would like to go back to little of that with this Interscope album.
SKOPE: Is this preparation for a musical troupe type show?
SDC: That's the idea. We wrote two shows one is a Las Vegas style show called Frantic. It takes time to get into Las Vegas and build these things; we're talking millions of dollars. It's a multi million-dollar production. So that's just sitting they're waiting for the brand of Street Drum Corps to get a little bit bigger and develop. But the show that we're launching next year for the performing arts centers is called Street Drum Corps Presents Man or Machine and in that we are using a hundred years of technology and we're gonna be performing on all of those, everything from the TV, to the atom bomb, to the vacuum cleaner. We'll be using all these instruments and it will be a 6 to 8 person cast. So we're gonna go back to L.A. after this tour and we locked out Universal records, they have this sound stage and studio and rehearsal hall. We locked that out for a week and we're gonna build the show, shoot a video for it and we'll launch it next year and probably do 25 shows around the world. That's what we need all these drummers for.
SKOPE: You integrate steam punk fashion into your dress. What draws you to that style?
SDC: Yeah that's our vibe you hit it. We haven't heard that yet, that's cool. Right now there's a lot of band out there, there's a lot of things going on. A lot of it is sounding the same. I think every generation is like that. We're not here to try and fit in or try to do something we're a little more experimental and we like to work with our friends. With those outfits we had an idea and we went to our friends they're called Lucent Dossier and they're out of Los Angeles, a vaudeville cirque group. We went to them do design our outfits. There's another girl and her name is Emily Kravitz from a company called Zanthak and she made us those sashe things that we're wearing on our shoulders. Our friend Sid rom Death, they're a bunch of Burning Men people, he said you guys should do something rocketeer something steampunk. He told us all about it a couple years ago. So between those three people it really helped us develop this style. When I was young and I would go see Perry Ferrell I never knew what I was gonna get and I wanna keep that thrill and that's from everything from the show to the outfits.
SKOPE: Is it hard to walk the line as a rock band and a theatrical troupe?
SDC: It takes a lot of work. We hope at the end of the day that people just notice that Street Drum Corps is more like a Cirque De Soliel where we have all different productions and all different sides to this group. Originally we were called Bang and we have the Street Drum Corps Presents thing and they're out on the Warped Tour all summer long and they played 50 shows this summer as a three piece percussive. High-energy punk rock percussion show and that's how we started out. So we've developed into a band and that's one aspect. Then we got the atmosphere punk rock percussion show, which is Bang, and then we'll have Man or Machine and then we'll have Frantic. It's a lot of work; it's a lot of delegating different things for different people to do each day. Adam, Frank and I work really hard and we get up in the morning and this is what we do. This city in Mexico wants us to come and do a STOMP style show at the end of September so we're putting together a show for specifically what they want. Like a STOMP show takes a lot of work — you want to find a show like STOMP but you don't want to rip it off. We wrote some pretty good ideas today. If we can make it happen that will be great — belief becomes fruition.
SKOPE: What type of techniques do you use to get that live spirit of your music recorded? How do you approximate that?
SDC: We do, we bring everything in. It's like a big junkyard in our studio — we got three drum sets, everything you can imagine set up. Now we got guitars, and basses and big amplifiers and keyboards — I feel like we're about to make The Wall. We got so many thigns but we also take little recording devices out into the field and get samples and like I mentioned earlier we'd bring them back into the studio and put them in the computer and make beats out of stuff. We go to shipyards or junkyards or anywhere. I was just told by someone that George Harrison would sit and record, sit outside and record whatever was happening , whatever was going on — birds, planes, it was pretty cool. We want to bring a little of that element into this next record as well.
By Shaun Flagg
Photo: Norrel Blair