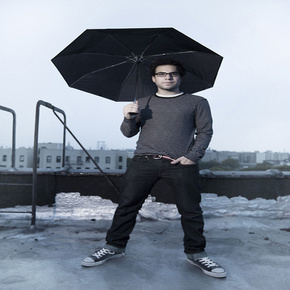 Where did Plushgun come from? The band was started by Daniel Ingala in the cramped confines of his overpriced and undersized bedroom in Williamsburg, Brooklyn.  
While writing a song on his acoustic guitar, Daniel had an idea: "What if I added some synths to this?"   And synths he added, creating a song called "Just Impolite", which he posted to his Myspace page in early 2007. Within months, through word of mouth, the project spread from one fan to another until it was heard by RagTag Productions, who approached Daniel about using his music in their popular web-tv series, "We Need Girlfriends." Dan also posted a few songs on OurStage.com, which enables music fans to discover emerging music and rate the music.   Plushgun quickly hit #1 on OurStage's Alternative Rock channel in January 2008.
"Just Impolite"
[youtube Ld-YqPs2m3U nolink]
After writing "Just Impolite," Ingala found himself needing a band name. For this he asked the advice of Stephen Colbert, before the taping of an episode of the Colbert Report. Colbert suggested "The Relevant Elephants." And by that he meant "Plushgun."
 
When people started to demand live shows, Dan was scared. It was just him and a computer, and computers tend to be terrible showmen. So he asked for help from past acquaintance, guitarist, and showman extraordinaire Taylor Armstrong to bring this project to the live stage, and the fans who've caught these live shows are still dancing!