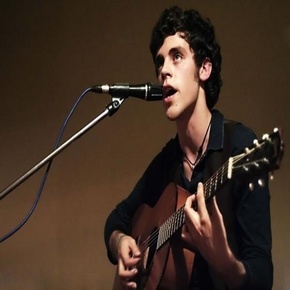 Noah and The Whale will release their much-anticipated debut album, Peaceful, The World Lays Me Down this Fall on Cherrytree/Interscope Records.
Noah and the Whale – "5 Years Time"
21-year-old Charlie Fink is the group's vocalist and songwriter. The songs were written and demoed in dark bedrooms – either laments on the fears that kept him there or songs that idolize the world outside that he wishes to be part of. Blessed with an innate gift for melody and turn of phrase that can make the simplest sentiment seem like a revelation, Charlie honed his skills through a childhood immersed in music. The band is completed by Charlie's brother Doug on drums, Tom on fiddle, and Urby Whale on bass and harmonium. The band's live performances have earned them a loyal following; among their multitude of headline dates they've also toured with Feist, Broken Social Scene and Laura Marlin (who provided additional vocals on the Noah record and whose critically-lauded album Alas, I Cannot Swim, Fink produced).
NOAH AND THE WHALE US TOUR DATES:
Sept 17                         Union Pool                                       Brooklyn, NY
Sept 18                         Sidewalk Café                               New York, NY
Sept 19                         Mercury Lounge                         New York, NY
Sept 20                         TOAD                                                     Boston, MA
Sept 26                         Empty Bottle                                 Chicago, IL
Sept 29                         The Sunset                                       Seattle, WA
Sept 30                         Doug Fir Lounge                       Portland, OR
Oct 2                               Pop Scene                                       San Francisco, CA
Oct 4                               Detour Festival                             Los Angeles, CA
Oct 6                               Spaceland                                         Los Angeles, CA