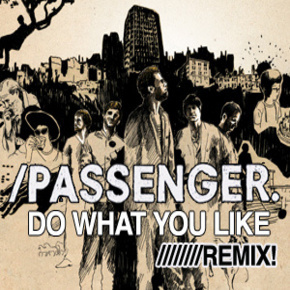 /PASSENGER.'s debut album was released in the US on 8/5/08! Currently winding their way through a two-week tour, the band is giving American audiences another dose of their poignant tales spun as gorgeously melodic and well-crafted pop songs.  
The band is also launching a remix contest in partnership with Indaba Music, inviting fans to remix their song "Do What You Like."   The contest, which launches August 5 to coincide with the release of their debut US album release, Wicked Man's Rest, will run for 3 weeks, followed by a 10-day voting period during which time /PASSENGER fans and other music lovers can vote for their favorite remixes.   The top five ranking remixes will all win a signed copy of the new album and /PASSENGER. front-man Mike Rosenberg will then pick an overall winner from among these remixes.   The winning track will be streamed from the band's MySpace page, official website and Facebook group as well as the winning remixer being added as the band's #1 MySpace friend.   In addition to all this they will receive a special package of goodies personally sent to them by the band.
Fans and artists can download the audio streams and post remixes at:
/PASSENGER. has toured with Kate Nash, The Hold Steady and Newton Faulkner.   The band has also become a favorite on the UK festival circuit with a second year confirmed at both The Great Escape and V Festival in addition to a performance at Scotland's Connect Festival on a bill with Sia, Sigur Ros, Franz Ferdinand and many more.
7/31                                 New York, NY                                               Living room                                              
8/1                                     Philadelphia, PA                                             Worlds Café (upstairs)                  
8/3                                     Annapolis, MD                                               Rams Head
8/4                                     Nashville, TN                                                   In-Store at Grimey's    
8/5                                     Louisville, KY                                                 Gerstles
8/7                                     Minneapolis, MN                                         The Hollow                                                 8/9                                     Denver, CO                                                       In-Store at Bart's CD Cellar
8/9                                     Denver, CO                                                       Meadowlark                                             8/11                                 Los Angeles, CA                                           Hotel Café
8/12                                 San Diego, CA                                                                       House Of Blues                 8/13                                 San Francisco, CA                                     Swedish American