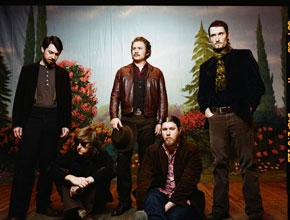 MY MORNING JACKET AT THE INTIMATE FILLMORE MIAMI BEACH AT THE JACKIE GLEASON THEATER FRIDAY, AUGUST 29TH!
My Morning Jacket is a four-piece band from Louisville, KY, built solidly around the vocal and songwriting talent of group leader Jim James. Their sound is lonesome, haunting, almost classic country at times, and that voice – James' voice – shares the same section of that old country highway with the familiar sounds of Neil Young, yet sounds right at home here in the world of independent American pop music, alongside contemporary singers like the Flaming Lips' Wayne Coyne and Galaxie 500's Dean Wareham. Like Galaxie 500, My Morning Jacket weaves songs and sounds together perfectly – underneath the big open sky filled with bright stars of course – never allowing the heavy reverb to subtract anything from the visual lyrics, or from the simple beauty of the songs themselves. My Morning Jacket lives in a world of wide-open spaces covered with a velvet sky, not alt-country, not indie rock, just beautiful classic Americana music.
Photo credit: Autumn DeWilde
WHEN: FRIDAY, AUGUST 29, 2008, Showtime TBA
WHERE: THE FILLMORE MIAMI BEACH AT THE JACKIE GLEASON THEATER
MIAMI BEACH, FL
ON SALE: FRIDAY, MAY 16, 2008, 10AM AT LIVENATION.COM, ALL TICKETMASTER OUTLETS OR CHARGE BY PH0NE:
MIAMI-DADE: (305) 358-5885
BROWARD: (954) 523-3309
PALM BEACH: (561) 966-3309
PRICES: $35.00 — GENERAL ADMISSION
All dates, acts and ticket prices are subject to change without notice. All tickets are subject to applicable taxes, and service and handling charges.