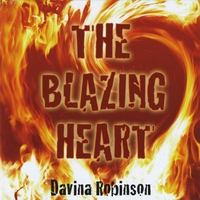 Davina Robinson really rocks. Well, her band does. Her CD, The Blazing Heart, opens with a high-energy beat and an electric guitar player who is seriously rocking out. Robinson's voice is fitting for rock, as it's a little hard and harsher than a pop diva or an R&B crooner.
It's a shame for Robinson's band that her name is on the CD, because the backing instrumentals are the most interesting parts of the songs. In fact, the songs even seem to be mixed to be very guitar-heavy to a point where, at times, it almost overpowers the vocals. Some of the hooks are catchy, particularly the choruses of "Making Love to Your Girlfriend" and "Conversations In My Head," but the verses and bridges aren't nearly as interesting. For the most part, the lyrics didn't seem "rocky" enough. Some of them seem a bit awkward and forced, and out of place.
"Never Good Enough" has by far the best opening guitar riff. I even liked the message until I realized that she says in the chorus, she says, "Though I try and try, you're just never satisfied," which changes the song from one of empowerment to an admission of submission. Five seconds of the song changed the entire perspective for me, transforming the singer from an independent spirit to the weak partner in a relationship.
Despite the song's problems, "Never Good Enough" features what is probably Robinson's shining vocal moment on the recording. The bridge, which is stripped down to almost entirely vocals, is the place where her voice sounds the best.
However, my biggest problem with the CD came about in the last track, "Keeping Me Sane." Robinson opted for a couple unison vocals on the track, which is fine, but one of the voices is out of tune through most of it, creating a horrendous sound and distracting from the rest of the song, which sums up my experience with the album as a whole. The vocals didn't really add anything for me, and the album would be nothing without the guitar.
Review By: Valerie Williams
[Rating: 2/5]