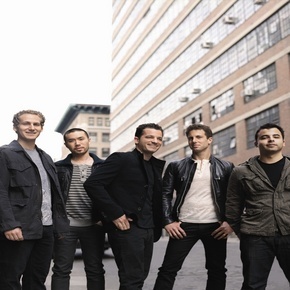 O.A.R. (Of a Revolution), a five-piece rock band out of Rockville, Maryland, released their sixth album All Sides on July 15th.
After over twelve years together the band has seen immense progression throughout their friendships and careers. Benj Gershman, the band's bass player, took some time to discuss the history of the band as well as their new release.
Despite radio-popularized tracks such as "Hey Girl" and the band's most recent single "Shattered," many fans may be caught off-guard hearing the band referred to as "Of a Revolution" rather than simply "O.A.R." It was an idea of what the music was doing for us back in high school. It was just a good, positive change that we were feeling and playing and everything was just new. It wasn't an idea of something world-changing or political or anything like that," Gershman said of the band's name. The band quickly abbreviated their name to O.A.R. "just because people couldn't easily pronounce Of a Revolution."
Upon completion of high school, the entire band eventually made their way out to Ohio State University, where their drummer Chris Culos's mother had attended college. Culos and singer/guitarist Marc Roberge were the first to go and guitarist Richard On was just a semester behind them. "They really liked it and it seemed like a nice spot to have a lot of fun, get an education, but also possibly keep the band together," Gershman explained. Gershman graduated high school one year after the rest of his band mates and then followed to Ohio State University where they met Jerry DePizzo. DePizzo was the band's missing link and has been their saxophonist/guitarist ever since.
The band's latest release, All Sides, is near and dear to their hearts, to the say the very least. "All Sides is an album that's been a long time in the making. We've been working on it for two year now. The record itself has a lot of different kinds of music on it. It represents "all sides" of O.A.R," Gershman shared. Gershman said he hopes this album "will stand the test of time," as he says O.A.R. feels like it is the best representation of their band to date.
"Shattered"
The band's success evolved rapidly throughout the years, "Everything has changed," stated Gershman. "We used to have to travel around in our personal cars show-to-show and now, professionally, we have a bus." As far as touring goes, Gershman says he looks forward to it during his time spent at home or in the studio. "This is what we do for a living. This is what we love to do. We're lucking to have it so it's always a pleasure hittin' the road.
Not all bands are so lucky as to see success throughout over a decade while still maintaining all of their original members. "I think we're all people who have a similar passion for what we want to happen with this so were all driven in the same direction," Gershman explained. "We're proud of ourselves for being able to have a good teamwork in the five of us in the band, but as well we have a great team outside of us. The people that nobody ever sees that help us do what we do are the people who really allow us to have a good relationship with each other." The band commends their dedication and efforts, as well as that of the people they have worked with. "A lot has transpired to get us to where we're at. The list goes on and on," Gershman said.
Gershman's final words were selfless and serious. Rather than plugging his new record, he had this to say to fans and readers: "I just hope that everyone who reads this goes out and votes. It's really important, this year more than ever." Now is your chance to make your vote count and be your own part Of a Revolution.
Words By: Jillian Polak