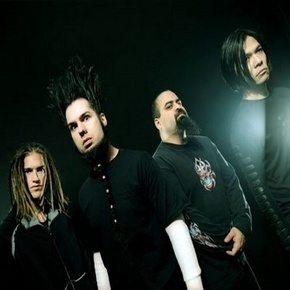 Los Angeles-based metal quartet Static-X have just announced the release of their first full-length live concert DVD, entitled Cannibal Killers Live, which will be released by Reprise Records on October 7th, 2008.
The footage was shot during a show in Spokane, WA, on June 2, 2007, shortly after the release of the band's latest studio album Cannibal. The 17-song set compiled from the tour includes material from Static-X's entire 14-year career, showcasing old favorites like "Push It" and "Bled For Days," along with newer songs from Cannibal, like the album single "Destroyer" and everything in between. Wayne Static, who dubs his brand of metal "evil disco," posted the following message to fans on the band's website: "Cannibal Killers Live looks and sounds absolutely awesome and I can't wait to share it with you!"  
A complete video history will also be included in the special package, with every video Static-X has ever made, along with an audio CD of the concert (track listing below). In addition, a limited-edition package will be released on October 7th that includes a bonus DVD featuring the band's 1997 concert at Hollywood's famous Whiskey A Go-Go club, which was recorded two years prior to the release of Static-X's platinum-selling debut Wisconsin Death Trip.   Pre-order details will be announced shortly on the band's website.
Static —X, which is Wayne Static (vocals, guitar, programming), Tony Campos (bass, backing vocals), Koichi Fukuda (lead guitar, keyboards, programming) and Nick Oshiro (drums) will go into the studio this fall for work on their sixth studio album, to be released in 2009.    
TRACK LISTING FOR CANNIBAL KILLERS LIVE CD/DVD:
1. Cannibal
2. Dirthouse
3. Sh** In A Bag
4. I'm With Stupid
5. Bled For Days
6. No Submission
7. Behemoth
8. Destroy All
9. Cold
10. Black And White
11. Destroyer
12. The Enemy
13. The Trance Is The Motion
14. This Is Not
15. Love Dump
16. Push It
17. Get To The