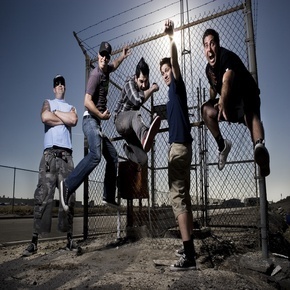 Zebrahead's "Phoenix" is in stores today and the new CD includes the previously unreleased "Broadcast to the World" DVD featuring live footage, all the band's videos and behind the scenes footage of the band.
Hailing from Orange County, CA. Zebrahead — Ali Tabatabaee (vocals), Greg Bergdorf (guitar), Matty Lewis (vocals/guitar), Ben Osmundson (bass) and Ed Udhus (drums) — are just back from a successful tour of Europe and the band is set to hit the road for a trek of US dates in support of the group's highly-anticipated new album 'Phoenix'.          
This full length CD/DVD combo pack features 16 new songs. The DVD features the never-released BROADCAST TO THE WORLD DVD, with live footage, all videos from that album and Zebrahead antics. with most tracks produced by Cameron Webb (Social Distortion, Motorhead, Papa Roach) along with a few tracks produced by Zebrahead's old friend and producer from their debut release Howard Benson (Daughtry, Saosin, POD Adema).      
Solo:
8/15 House of Blues San Diego, CA
8/16 House of Blues Anaheim, CA
With City Sleeps and Civet:
8/18 The Sets Phoenix, AZ
8/20 Mesa Theater Grand Junction, CO
8/22 The Bluebird St Louis
8/23 The Rave Milwaukee, WI
8/24 Peabody's Cleveland, OH
8/25 Crocodile Rock Allentown, PA
8/27 Blender at Gramercy Park NYC, NY
8/28 Stone Pony Asbury Park, NJ
8/30 Magic Stick Detroit, MI
8/31 Diesel Nightclub Pittsburgh, PA
9/2 Intersection Grand Rapids, MI
9/3 Reggie's Night Club Chicago, IL
9/6 Bluebird Denver, CO
9/8 Club Boom Ogden, UT
9/9 Big Easy Boise, ID
9/11 Boulevard Spokane, WA
9/17 Karma Lounge Ventura, CA
9/18 The Knitting Factory Hollywood, CA
Ecard Featuring "Mental Health" and "Hell Yeah":
"Mental Health":
[youtube irW9d_iGMJc nolink]