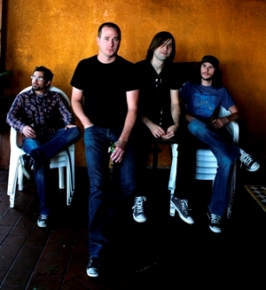 "The Red Sox don't deserve a player like me," former Boston slugger Manny Ramirez told the press this week, explaining his imminent move to the other side of the country to play for the Los Angeles Dodgers.
When LUSTRA made the same journey a few years ago, there was no press conferences available to the band to make the announcement, so they wrote a song instead – "It's a Shame About Boston," a song about looking back while moving on. If Ramirez is in the market for a new anthem, he may need to look no further.   .
 
Name-checking Bostonian landmarks Central Square and rock club Middle East within the first thirty seconds, LUSTRA's "It's a Shame About Boston" paints a wistful, homesick portrait of the Eastern Seaboard metropolis with a driving beat, laidback talk-sung vocals and crunchy guitars. The lyrics weave a tale of geographical heartbreak, intermingling lines about disillusionment with the local music scene such as "Please don't come and see my band/because I don't want to see your band/and I bet that I'd forget it anyway," with suggestions of a lost love affair: "It's a shame about you/You left your heart where you lost it/Now that I'm gone." The sing-along first chorus makes mention, too, of the alleged "Boston curse," that still haunts the music and sports scene alike today: "All the good bands move away…The curse goes on and on, on and on and on."
 
LUSTRA is currently preparing for the release of their sophomore effort What You Need and What You Get   produced by John Paterno (The Eels, The Warlocks). They have already found success with the single "Scotty Doesn't Know," a lip-synced performance of which was featured in 2004 film EUROTRIP with Matt Damon fronting the band as their fictitious lead singer
 
With "It's a Shame About Boston," LUSTRA have inadvertently provided Manny Ramirez's new theme song – an equal mixture of regret and determination to move on from the accursed city and onto greener pastures – well, sunnier beaches, anyway.
Hear "It's a Shame About Boston":