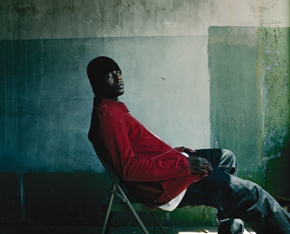 KeAnthony's debut album, A Hustlaz Story, will arrive in stores August 5 from Reprise/ Warner Bros. Records.    
The album boasts the platinum handiwork of writers and producers Tank (Jamie Foxx, Aaliyah) and The Underdogs (Mario, Tyrese).     The collection features soulful R&B that covers a wide emotional spectrum, most notably lead single "I Ain't Tryna'," where KeAnthony pledges to be the best man he can be for his lady.    
Elsewhere on A Hustlaz Story, KeAnthony revisits his own painful past on the dramatic "Forever My Homie (Done Snitched On Me)," where he chronicles how his best friend set him up for a stretch behind bars.     The Nashville-raised singer also documents how he will take care of the woman in his life on "That's What I'll Be" and provides wistful ruminations on "I Thought."
The debut short film from KeAnthony, also titled A Hustlaz Story, made it's debut July 23rd on the BET network.     The gripping short, which stars KeAnthony, Michael K. Williams (The Wire's Omar Little) and Aleesha Renee (BET's The Black Carpet), focuses on an aspiring singer (KeAnthony) whose innocent exchange with a female singer leads to gunplay and a twisted turn of events that puts him in a string of unenviable positions.     A Hustlaz Story was also accepted at the Hollywood Black film festival and the First Take film festival.    
With a scorching album that puts the soul back in R&B and an in-demand film, KeAnthony is poised to be the next R&B sensation.    
"I don't give a damn where you from," he says. "You will feel this album."