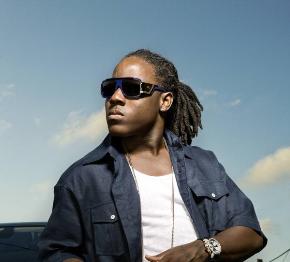 If you  have been following hip hop lately  than you have heard the infectious track "Cash Flow" from Ace Hood and his homie Rick Ross. Ace Hood is the first signee on the Def Jam / We The Best record label. DJ Khaled says about Ace, "Ace has a swagger all his own and is here to show us why, this kid's a star." Ace will be dropping his debut album, 'Gutta', on September 23rd!
Ace just happened to be in NYC today 7/31/08 so Stoli had to see what was up with this brotha! Ace started rapping at the age of 14. He is from Broward County just north of Dade and he grew up around Ft Lauderdale. "I was not too serious about rapping until high school."
Ace was down with a local label. "We was big in our hood. We played songs on underground radio stations, hit the clubs, and the streets." It was not until Ace dropped the hit, "MOE (Money Over Everything)" that DJ Khaled came calling.
Now a few years later all that hustling has paid off. "I am excited about Gutta and just being on Def Jam / We The Best." You can tell from Ace's voice that he is not taking anything for granted.
Ever since Ace dropped, "Cash Flow" his life is different than it was. "Back then I had one job. I felt that the 9-5 was overrated so I had to get it in the best way I could." Ace also told me that now lots more people now recognize him wherever he goes. As for the women, "I always had hos. Now I have 10 times what I did."
When asked about when we can see Ace in Boston, Ace was hopeful to make it here soon. Ace adds alot to the game. "I bring new raw energy. I give it like a veteran and when you mention, Gutta, you mention Ace Hood. I have no time to waste, I got to go hard."
Just from talking with Ace you can tell he is the real deal. This emcee is smart, charming, & optimistic. I expect this will not be our last conversation. Please, check out his new single "Ride" below too!
"Ride" Feat Trey Songz:
"I'M ME" VIDEO
[myspace 38448651 nolink]