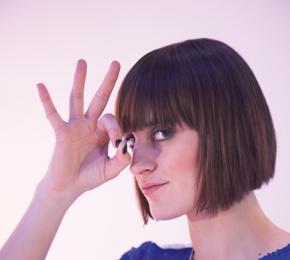 Accompanying Yelle on tour is album producer GrandMarnier on drums and vocals and collaborator/remixer Tepr on keyboards and programming.  
The five songs on iTunes Live: London Festival 08 EP were recorded during Yelle's triumphant July 10th performance at London's famous KOKO club.   Before returning Stateside, Yelle will conclude her world-wide festival tour on August 10th at Japan's Summersonic Festival.
Fusing a young lifetime's worth of pop-culture influences with a fearless, DIY approach to lyric writing and a magnetic vocal presence, YELLE's album POP-UP was a Top 10 charter on Billboard's Top Electronic Albums listing, and also entered the Heatseekers chart shortly after its Stateside release in April 2008. (It was released digitally late in 2007, and charted among iTunes' top-selling electronic albums.) Yelle was Artist of the Week earlier in 2008, in MTV's 52 Bands / 52 Weeks program.
YELLE ON AMERICAN TOUR, FALL 2008
10/07               House Of Blues                                 Dallas, TX
10/09               The Venue                                                 Austin, TX
10/10               Polish American Club                 Miami, FL  
10/11               The Social                                               Orlando, FL  
10/13               9:30 Club                                                 Washington, DC  
10/14               Webster Hall                                 New York, NY
10/15               The Roxy                                                 Boston, MA
10/20                 Magic Stick                                 Detroit, MI    
10/21                 Congress Theatre                 Chicago, IL  
10/22                 Turner Hall                                                 Milwaukee, WI  
10/24                 Ogden Theatre                                 Denver, CO
10/25                 Urban Lounge                                 Salt Lake City, UT  
10/27                 Neumos                                                 Seattle, WA
10/29               Berbati's                                                 Portland, OR  
10/31                 Mezzanine                                                 San Francisco, CA  
11/01                 Henry Fonda Theatre                 Los Angeles, CA
11/02               Beauty Bar                                                 San Diego, CA
Photo Credit: Ulysse Frechelin