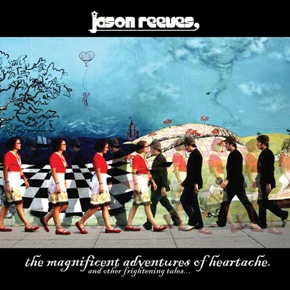 Warner Bros. & Jason Reeves to release The Magnificent Adventures of Heartache (and other frightening tales). The new release dates fo the album are August 12 digital and September 9 the CDs will be in stores.
From the uplifting opening track "Someone Somewhere" through reflective closer "The End," singer/songwriter Jason Reeves' forthcoming album The Magnificent Adventures of Heartache (and Other Frightening Tales) takes listeners on a contemplative journey of love, hope, heartbreak and renewal. Originally only available online and at his shows, the album's beauty and raw honesty connected with listeners and earned a "Top Folk Album of 2007" distinction from iTunes, which also named Reeves one of the Top Indie Singer-Songwriters of that year. Now signed to Warner Bros. Records, which will widely-distribute his album for the first time, Jason's own story continues, one that remains as pure as his outlook on life and music as it ever was.
Self-taught on the guitar, Reeves began his own musical adventure as a teenager when he discovered the works of folk legends Bob Dylan and James Taylor. Transformed, Reeves spent the next few years honing his own writing skills before dropping out of college and moving West to California to pursue his music full time.
 
Now 23, Reeves paints beautifully sophisticated portraits of some of life's most vulnerable, yet exhilarating moments. "Reaching" for example, ponders the question of whether to abandon caution and the familiar in order to plunge headlong into the risk and potential reward of the unknown. "Pretty Eyes", meanwhile, idealizes the utopian moments in life when one is in love, while "Never Find Again" reminds us that perfection is all-too-fleeting.
"You in a Song" – Streaming URL: