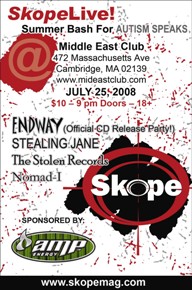 The sun was surely shining on Cambridge, MA & Skope Live! on Friday July 25th, 2008. Since April of 2008 Jillian Santella had been busy booking what was to become Skope Live! / AMP Energy Summer Bash For Autism Speaks for 2008. Kevin at The MIddle East in Cambridge, MA agreed to host the party and give Skope Live! a Friday night. Soon thereafter our good friends at Pepsi offered to sponsor the event with their own AMP Energy drink.
We were very fortunate to attract top talent to play the Skope Live! event. We had Nomad – I, The Stolen Records, Stealing Jane, and Endway. Endway agreed to headline the show and bill it as their own CD release party as well. Their new CD, 'Action' is out now digitally & at retail.
For 10 weeks we all were busy promting the show. It was truly a combined effort. We all reached out to various print, online, radio, and TV outlets in Boston to help get the word out. We placed a nice 1/4 page AD in The Weekly Dig and had Emerson College radio announcing the show many times for two weeks prior. It was truly a team effort between Skope Live! and the bands and their fans.
Finally the big night was upon us. The weather in Boston that week had been cloudy with thunderstorms. That was a bit concerning but weather reports put everyone at ease. Early Friday morning the sun came through the clouds and the weather stayed gorgeous for the rest of the day!
Around 6 pm the preparations were in full swing. The Middle East was buzzing with bands, media, managers, engineers, bartenders, security, and anyone involved with the show. You could tell from the sound-checks from Stealing Jane, Stolen Records, and Endway this show was going to be special.
AMP Energy was just incredible in every way. As the major sponsor of the night they supplied us with banners, coolers, cases of AMP, and life size posters. The Skope staff lead by Shizz Strothers did such an excellent job decorating the room that everyone knew that AMP Energy helped make this all possible. There were also huge coolers filled with all the flavors that AMP offers. There was over 400 ice-cold cans of AMP given out that night. The AMP kept the fans partying through 1 am!
Around 9:30 pm the show was underway. First up was Nomad-I. Nomad-I is a reggae artist from Medford, MA who is just incredible. This artist is full of passion and his fans know that. Nomad-I was the perfect opener because half-way through his set the room was 3/4 full. Nomad-I even brought up good friend and music partner The Mighty Mistic. These two got the fans amped and excited!
Next up was The Stolen Records. This band was full of talented musicians. Catchy hooks, great melodies, and a spunky lead singer named Emily make this band one to watch. By the time their set was through the show was sold-out. The Stolen Records have alot going for them but their live show is so right on!
By the time 10:30 had come around the room was packed and the door alerted me that we had sold out! This show brought out good looking people looking to have some drinks, party, and hear some quality indie bands. The bar and merch tables were packed all night. People taking samples and buying everything from t-shirts to CD's.
Stealing Jane went on around 11 pm. Stealing Jane is a band from Long Island, NY who are truly on the cusp. When you bring a band from out of town to Boston it can be a toss-up. It can be tough for some indies to really draw well. Jillian was convinced that Stealing Jane was different. Wow, was she right! Stealing Jane played to a packed house. Their music is infectious and the people in the fans know all the words. The only word for this band is, "impressive." The boys headed to Providence, RI the next night to play with Tall As Lions.  
Last but not least was the headliner of the night, Endway. Endway is a Boston band that I was familair with from FELT's 10 year anniversary a few weeks prior. These guys play music with loads of appeal and they draw a crowd every show. These guys took full advantage and made this show their CD release for, 'Action.' You could tell that their new CD is in high demand as their merch table got mobbed once they got on stage. The boys played some older tunes and new ones from the album. This is a band that we will look back in awe that we had play Skope Live! After Endway played you could tell the fans wanted more as they slowly exited the venue.
Overall the night was a major success. The show sold-out, every band and artist played an amazing set, people got a taste of the delicious AMP Energy, and it looks like The Middle East wants Skope Live! back again. A huge thank you to all the fans, bands, The Middle East, Skope Live! staff, and AMP Energy for being involved with an awesome night. It shows that if the music is good, the people will come.
As many people know, Skope Live! does all these shows for many reasons but the one that sticks out most is to raise $$ and awareness for Autism Speaks. Today, 1 in 150 individuals is diagnosed with autism, making it more common than pediatric cancer, diabetes, and AIDS combined. Skope's CEO, Michael Friedman became involved with this cause after his cousin Michael Joseph was diagnosed. Since then, every Skope Live! event makes sure to help get the word out and hope for a cure. Autism Speaks' goal is to change the future for all who struggle with autism spectrum disorders. It is an honor to get Skope Live! involved and helping in any way we can. For more: www.autismspeaks.org
Words By: Mikey Frieds
Keep Up With Everything Skope Live!:
http://skopemag.com/category/skopelive/
Contact Skope Live!:
skopelive@skopemag.com