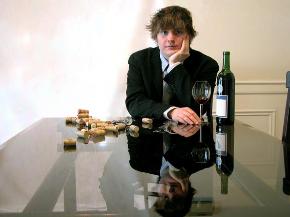 On his long awaited debut solo album, 22-year-old Boston bred singer/songwriter John Paul invites his legion of fans in the New England area to take a high energy, folk-rock, Americana and country driven cruise down 'Belmont Boulevard.'
The street in Nashville where he, his producer Tom Acousti and some of Music City's top session cats cut the album's twelve tracks in a two day whirlwind of creativity. Among the vets on hand was drummer Brad Pemberton, whose regular gig is working with Ryan Adams and The Cardinals. Pemberton says of the explosive project: "It's a fantastic collection of songs reminiscent of Ryan and Paul Westerberg. Excellent songs, great hooks and honest delivery."
Paul first met Acousti–a popular confessional singer/songwriter in his own right–when Acousti judged his high school group in a battle of the bands competition that resulted in Paul winning first place in songwriting. The two wrote songs over the next five years as Paul was majoring in marketing and communications at Emerson College and establishing his band Black Tie Affair as a major entity on the college circuit.
Primarily an outlet for Paul as an artist and emerging songwriter, Black Tie Affair played regularly at popular Boston haunts like Paradise, The Roxy and Middle East Downstairs; toured up and down the East Coast; received a local artist's spotlight on the top local college station WERS; and performed in 2007 at the world renowned CMJ (College Music Journal) Festival. Paul's songs have been played and praised by many radio stations, including WERS and WLUR in Lexington, Virginia, which said, "John Paul delivers meaningful hooks with extremely versatile range and a ubiquitous vocal."
Besides Pemberton, the dream list of Americana and country music scenes heavy hitters who grace tracks on Belmont Boulevard includes pedal steel/electric guitarist Dan Dugmore (Linda Ronstadt, James Taylor, Neil Diamond, Tim McGraw) and bassist Billy Mercer (Ryan Adams, Mindy Smith, Matthew Ryan). Paul also worked with pianist/organist Jason Lehning, whose accolades include a Grammy nomination for Best Engineer and work with Guster, Josh Rouse and Viktor Krauss. After the initial two days in Nashville, Paul and Acousti quickly finished up the record in Portland, ME with additional tracking and mixing.
An eclectic songwriter both in terms of musical styles and lyrical content, Paul balances youthful tracks like "Drink and Drive" and the 'quarterlife crisis song' "21" (which is energized with what he calls "one of my best hooks yet") with more mature, poignant expressions like "Way Too Soon," which is about a young girl who has died too early; this track hints at the kind of grace and musicianship that usually doesn't emerge until artists hit 30. He also recently posted a video on YouTube for his crazy, fast paced and high adventure story song "45." Along those lines, Paul is ready for his next major challenges as he leaves the security of his college life and fan base in Boston and heads out this year for Los Angeles to further pursue his career.
"I love performing and it's a lot of fun for me," he says, "but people notice very quickly that I don't do a lot of talking when I'm onstage. I prefer to let the songs speak for themselves because I believe that songwriting is the key to really making a mark as an independent artist. My goal is to literally write a song every day. I like to say that if I'm not writing every day, I'll never know what I'm not going to write. That's really the coolest part of all of this and the thing that gives me confidence as I enter into this next phase of my life in L.A."