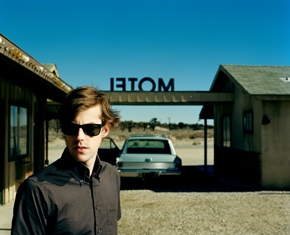 Jack's Mannequin, led by singer-keyboardist Andrew McMahon, will release its second album, entitled The Glass Passenger, on September 30th, 2008 on Sire/Warner Bros. Records.
Co-produced by McMahon and Jim Wirt (Incubus, Hoobastank), The Glass Passenger is the follow-up to the band's debut Everything in Transit, which was released in August 2005 and debuted at No. 37 on the Billboard Top 200 album chart.
Like that album, The Glass Passenger was written and recorded over the course of nearly two years with McMahon going into the studio whenever inspiration struck. As a result, McMahon describes the album as "a bizarre balance between present and past. I was trying to use the music to sort through and reconcile with the adversity of my past."
Jack's Mannequin on Tour with Paramore!
7/28
 Mon
 Reno, NV
 Grand Sierra Resort
 
7/29
 Tue
 Henderson, NV
 Henderson Pavilion
 
7/30
 Wed
 Costa Mesa, CA
 Pacific Amphitheatre
 
8/1
 Fri
 San Diego, CA
 SOMA
 
8/2
 Sat
 Mesa, AZ
 Mesa Amphitheatre
 
8/3
 Sun
 Albuquerque, NM
 Sunshine Theatre
 
8/5
 Tue
 Little Rock, AR
 Riverfest Amphitheatre
 
8/6
 Wed
 New Orleans, LA
 The Sugarmill
 
8/7
 Thu
 Memphis, TN
 Mud Island Amphitheatre
 
8/8
 Fri
 Cincinnati, OH
 Bogart's
 
8/10
 Sun
 St. Louis, MO
 The Pageant
 
8/12
 Tue
 Chicago, IL
 Congress Theatre
 
8/13
 Wed
 Sterling Heights, MI
 Freedom Hill Amphitheatre
 
8/15
 Fri
 Philadelphia, PA
 Festival Pier at Penn's Landing
 
8/16
 Sat
 Asbury Park, NJ
 Asbury Park Convention Hall
 
8/17
 Sun
 Providence, RI
 Providence Pier
 
8/19
 Tue
 Allentown, PA
 Crocodile Rock
 
8/20
 Wed
 Buffalo, NY
 Town Ballroom
 
8/24
 Sun
 Cleveland, OH
 Time Warner Cable Amphitheatre
 
8/26
 Tue
 St. Paul, MN
 Minnesota State Fair Grandstand
 
8/28
 Thu
 New York, NY
 Rumsey Playfield
 
8/29
 Fri
 Portsmouth, VA
 NETLOS Pavilion at Harbor Center
 
8/30
 Sat
 Wallingford, CT
 Chevrolet Theatre
 
Photo By: Andrew McMahon by James Minchin