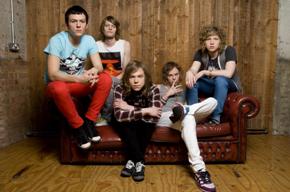 Bowling Green, Kentucky 5-piece, Cage The Elephant has been hustling over the last 12 months amassing an impressive following over on the other side of the Atlantic.
Their uncompromising, sweat-fueled live shows highlight a collection of blistering tracks which draw in the listener in anticipation of the where the antics of frontman, Matt Shultz will take them.  
Make no mistake; these deft southern rockers may be the latest in a spray of acts to emerge having been raised against a strictly religious, small-town backdrop however, having long abandoned their youthful imprudence, Cage The Elephant defy lazy pigeon-holing. Cutting between 80's punk, 50's rock 'n roll, 90's grunge and yes, southern-fried blues influences, one thing is clear when immersing yourself in this riveting debut; one listen just ain't going to cut it!
"Tiny Little Robots":
Ain't No Rest For The Wicked:
Tracklisting is as follows:
1. IN ONE EAR
2. JAMES BROWN
3. AIN'T NO REST FOR THE WICKED
4. TINY LITTLE ROBOTS
5. LOTUS
6. BACK AGAINST THE WALL
7. DRONES IN THE VALLEY
8. JUDAS
9. BACK STABBIN' BETTY
10. SOIL TO THE SUN
11. FREE LOVE