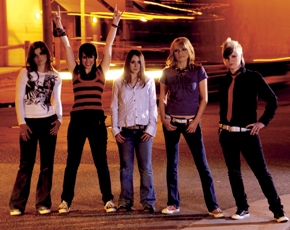 Riding high after a recent "Emerging Artist" win at Summerfest 2008 in Milwaukee, WI, Minneapolis' Sick of Sarah have finally released the music video for "Daisies," a track off the band's self-titled debut slated for release on August 12 on Adamant Records.
Featuring amazing graphics and vibrant animation, this playful song about love and all its idiosyncrasies illustrates the band's sprightly disposition to the absolute fullest.
Sick of Sarah is five young women with five different tastes in music. The debut album is an amalgam of these disparate influences; a confluence of John Fogerty, Sleater-Kinney, Michelle Branch, Babes In Toyland, and Joan Jett to name only a few. "We write all our own stuff; it qualifies as indie pop-rock," says Abisha Uhl. "It is very melodic. We like sweet melodies and ballads, but we also like punk and the edgier stuff." Uhl further describes the music as "crazy, fun and obnoxious."
Sick of Sarah has a strong local following in their hometown of Minneapolis are beginning to draw attention nationally. It was after winning the MTV virtual Kaya's Battle of the Bands they released a single "Bittersweet" through LA indie Adamant Records. That single caught the attention of Spin Magazine which compared them to the Breeders and Sleater-Kinney in a "Buzzcatcher" story.
The band will be doing a tour around the release of the album bringing their newly christened "award-winning" show to Minneapolis on August 8 at Cabooze followed by shows in Milwaukee at Shanks Hall on August 13, the Double Door in Chicago on August 14 and Brooklyn, Michigan's Jerry's Pub on August 15 and 16.
Watch "Daises":